Follow This Path: How the World's Greatest Organizations Drive Growth by Unleashing Human Potential
Curt Coffman and Gabriel Gonzalez-Molina, Ph.D.
What do the world's greatest organizations have in common? They know that their most valuable resources are their employees and customers. And the best companies understand this more than anything: People are emotional first, and rational second. Because of that, employees and customers must be emotionally engaged in order for the organization to reach its full potential. Gallup Organization research not only bears that out, but has uncovered the secrets of creating and managing an "emotional economy" that will provide boom possibilities for your company.
Follow This Path shows you how the traditional ways to engage people no longer apply in today's world. Instead, it offers a system called The Gallup Path, based on proven, revolutionary strategies used by the most successful businesses. You'll learn the prerequisites of an effective workplace, forge unbreakable bonds between employees and customers with the book's "34 Routes to Superior Performance," know the three crucial links that drive productivity and growth, discover the best employee and customer motivators, and much more.
Ignore the emotional economy, and you'll miss out on financial performance. Follow This Path helps your company build relationships one customer and one employee at a time, and it offers a unique new path for your organization to follow. All you have to do is value and develop the human relationships all around you, and you'll transform your business -- starting today.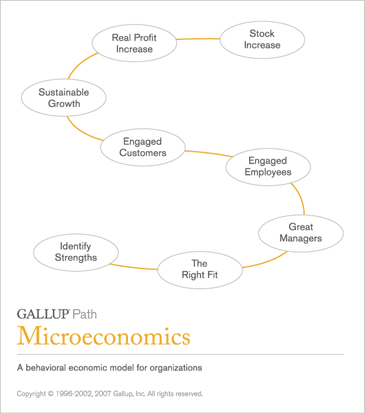 Reviews
" Follow This Path offers a fascinating insight into the role of the human soul on touching others and the importance to our world economy and way of life."
Deepak Chopra
Author, The Seven Spiritual Laws of Success
"The sober and sensible way to improve your bottom line by building the strengths of your employees-based in data, not in armchair speculation."
Martin Seligman
Fox Leadership Professor of Psychology
University of Pennsylvania
"Business has long viewed employee and customer emotions as something to control. Follow This Path introduces a novel idea -- that to succeed, businesses should understand, rather than control, these emotions, and that research on the brain mechanisms of emotion can help them get there. Follow This Path is a must-read for anyone wanting to know how emotions can drive organizational success."
Joseph LeDoux
Henry and Lucy Moses Professor of Science in the Center for Neural Science at New York University
Author of Synaptic Self and The Emotional Brain
"Curt Coffman's first book, First, Break All the Rules, provided a catalyst for many of the ideas we've employed in the ongoing transformation of our company, and for our continuing relationship with The Gallup Organization. His latest work, Follow This Path, offers yet another treasury of valuable insights and is recommended reading for any management seeking to unlock the full potential of its people resources."
Christian Haub
Chairman and CEO
The Great Atlantic & Pacific Tea Company