Electoral Process in Angola Elicits Little Trust
Thirty-four percent have confidence in the honesty of elections
WASHINGTON, D.C. -- Angola's legislative elections slated for Friday will be the first since 1992, when multiparty elections took place during a brief period of peace in the country's turbulent history. Gallup Poll findings show that few Angolan respondents, aged 18 and older, express trust in their nation's electoral process.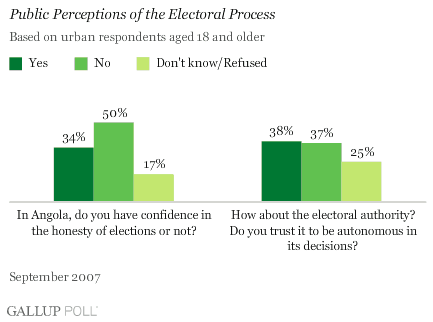 The last time Angolans went to the polls in 1992, the electoral outcome reignited the long-running civil war after Jonas Savimbi, the National Union for the Total Independence of Angola rebel leader, lost to the incumbent and now-President Jose Eduardo dos Santos. Against the specter of conflict, such low confidence in the honesty of elections (34%) is not surprising. Gallup polled in the country in September 2007 as the Angolan government was ending a 10-month voter registration drive in anticipation of this month's elections. However, because of land mines in rural areas of the country, interviewers primarily surveyed in urban areas only.
When asked whether they trust the electoral commission to be autonomous in its decisions, Angolans surveyed appear ambivalent: 38% say "yes," but 37% say "no," and one-quarter say they don't know or refused to answer.
In this week's election, Angolans will be casting their ballots to select their parliamentarians. The poll findings show that Angolans surveyed are also divided about their legislative body: 39% of respondents say they trust their national assembly to be autonomous in its decisions, but 37% do not trust the national assembly, and 25% say they don't know or refused to answer. Interestingly, an independent judiciary elicits almost identical levels of confidence: 37% of Angolan surveyed say they trust the Supreme Court and judges not to "act under pressure from other powers," 39% say they do not trust the Supreme Court, and 24% say they don't know or refused to answer.
In a separate set of questions, Gallup asked Angolan respondents about confidence in their national government. The poll findings show that those surveyed appear ambivalent as 47% say they have confidence in their national government, and 44% say they do not have confidence.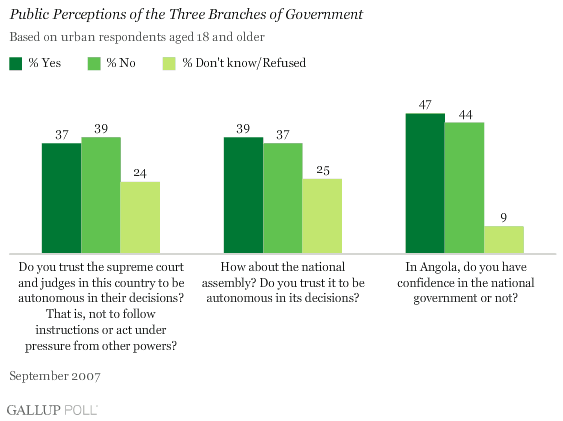 Although the war ended in 2002, the overall poll findings underscore the challenges of holding elections in a country that has been scarred by civil war. Presidential elections scheduled for 2009 will mark 30 years of dos Santos' rule in this former Portuguese colony.
Survey Methods
Results are based on face-to-face interviews with 907 adults, aged 18 and older, in Angola (in primarily urban areas) in September 2007. For results based on the total sample of national adults, one can say with 95% confidence that the maximum margin of sampling error is ±5 percentage points. In addition to sampling error, question wording and practical difficulties in conducting surveys can introduce error or bias into the findings of public opinion polls.