Are Chinese Workplaces Fit for Long-Term Growth? Part II
Only a third report receiving praise for good work
Over the last 20 years, China has become the world's fastest-growing exporter. As a result, Chinese workers are becoming increasingly important to the health of the global economy. The latest Gallup Poll of China examines how Chinese employees rate their workplaces on the factors Gallup has shown to drive productivity elsewhere.
We previously looked at the likelihood of Chinese employees to understand what's expected of them, and the degree to which they feel their jobs let them do what they do best (see "Are Chinese Workplaces Fit for Long-Term Growth?" in Related Items). This week, we review two more workplace factors essential to high productivity: 1) the amount of support employees draw from their relationships with supervisors, and 2) the likelihood that those supervisors clearly define and recognize good work.
"My supervisor, or someone at work, seems to care about me as a person."
Six in 10 Chinese employees "strongly agree" or "agree" their supervisor, or someone at work, seems to personally care about them. That's not bad -- slightly lower than the 7 in 10 found in the United States and Japan, about the same as Gallup's most recent figure for Singapore, and considerably above that for Thailand.
Chinese workplaces need to build on that majority because the "supervisor cares" item is another powerful driver of overall engagement in the workplace. Of the Chinese employees who strongly agree they have a manager at work who cares, about a third (33%) are engaged with their jobs. Of those who don't agree, only 3% are engaged.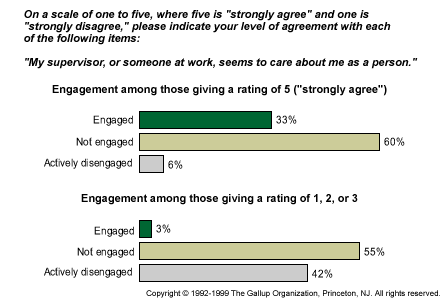 The level of agreement with the "supervisor cares" item is less promising in China's three largest cities, where it drops to only 5 in 10 employees. In these rapid-growth areas, caring managers become paramount to retaining talented people. In high-octane economies, talented workers who quit a job don't typically leave the organization -- they leave the manager. Given options about where they can work, employees tend to judge current employers by their direct day-to-day relationships with a manager. Managers represent the face of leadership -- the primary image of the organization's values and vision.
That image becomes murky when the role of the manager hasn't been clearly established, which may be the case in many new Chinese workplaces in which local traditions don't match the policies of newly arrived international companies. In doesn't help that Chinese employees who have gone through management training are actually less likely than other employees to be engaged (see "Who Will China's Future Business Leaders Be?" in Related Items) -- how can disengaged managers engage the associates who report to them? The degree to which managers consistently define their roles, and clarify their measures of accountability, will be important to China's ongoing growth.
"In the last seven days, I have received recognition or praise for doing good work."
As the role of Chinese managers evolves, recognizing individual employees' excellence will need to become a bigger priority. Only a third of Chinese employees report they have received recognition or praise for doing good work in the last seven days. This percentage is lower than it is in almost any other country in which Gallup has asked this question, including other Asian countries such as Singapore and Thailand.
Why is recognition important? It is a fundamental part of communicating the company's overarching values, and a significant means of defining what a great contribution is for any given role. Perhaps most importantly, being recognized for one's contributions is a powerful human need, as our data from Chinese employees demonstrate. Among Chinese employees who don't agree with the recognition item, about 4% are engaged and 28% are actively disengaged. Among those who strongly agree, a majority (51%) are engaged, while about 3% are actively disengaged.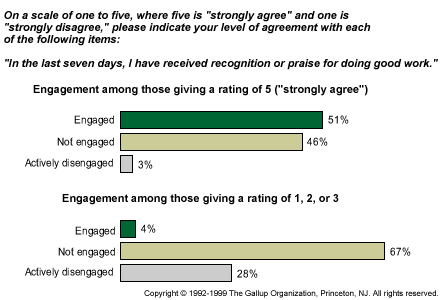 This problem isn't limited to state-owned companies. In fact, government-employed workers are just as likely as private-sector white-collar employees to agree they've received recognition in the past week. But the percentages are low across all employment categories.
Managers could enhance workplace productivity if this important factor was improved. That won't be easy, however, because Chinese workplaces have traditionally adhered to a "command and control" structure, in which conformance is valued and individual achievement is deemphasized.
Progress on both the dimensions will not come without growing pains, but the need for improvement will only increase over the next decade.
The Q12 items are protected by copyright of The Gallup Organization, Princeton, NJ, 1992-1999. All rights reserved.