Drive Employee Engagement
When your employees are engaged, they don't just become "happier" -- they become better performers. With world-class measurement, practices, education and tools, Gallup helps you take engagement from a "check-the-box" activity to a crucial component of your performance strategy.
Our Expertise
Global, scalable, proven.
We aren't new to the world of employee engagement. In fact, we helped launch it. We've spent 35 years studying what matters most to employees and teams and are responsible for the creation of the gold-standard employee engagement survey, the Q12.
But we also know that a survey alone won't produce the results you want. We treat employee engagement like a business strategy and help you do the same -- using an approach that works best for you. We can set you up with the Q12 and give you the tools and resources to successfully manage and act on your data. We can also partner with you to create and implement a comprehensive employee engagement plan.
No matter your starting point, challenge or industry, we're uniquely qualified to get you where you want to be.
15%
average engagement among employees worldwide
44%
average engagement among Gallup clients
70%
average engagement among Gallup's best-practice clients
Workplace Platform
Ask, analyze and act -- with ease.
Ready to get started?
Gallup Access is your online platform for workplace performance. With Gallup Access, you can easily administer the Q12 survey, dive into the data and access simple learning modules to help you act on your results.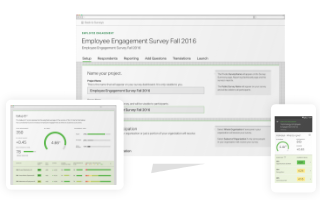 See what Gallup Access can do for you. Simplify survey administration and reporting, and give managers easy-to-use tools for greater performance.
Strategic Partnership
Create a culture of engagement.
Looking for a more comprehensive employee engagement solution?
Gallup consultants will work closely with you to design and implement a strategy that solves your most pressing engagement and performance issues.
Resources, Education and More
Equip your managers.
Do your managers understand the critical role they play in engaging employees? Gallup provides education, coaching and tools to managers at all levels to ensure they can deliver high performance in their teams.
Related Services
Performance Management
Equip, inspire and improve employee performance
Culture
Realize your ideal culture
Start engaging your employees today -- with a solution that's right for you.
To learn more about our employee engagement products and services, fill out the form below, and a Gallup representative will contact you.