How to Improve Student and Educator Wellbeing
The landscape of education is constantly changing. And while disruption challenges our perceptions of "normal," and school leaders, faculty and teachers face greater challenges than ever before, this goal is still our focus:
"Our greatest contribution is to be sure there is a teacher in every classroom who cares that every student, every day learns and grows and feels like a real human being."
-Don Clifton, Father of Strengths Psychology and Inventor of CliftonStrengths®
To achieve this goal, we'll consider these main components: Student engagement and student wellbeing, as well as educator engagement and educator wellbeing. These components can be further divided into higher education and the school system (kindergarten through 12th grade).
Whether it's a kindergarten student starting their educational journey or a student facing their first year in college, the importance of authentic, caring mentors to drive student wellbeing has never been more evident.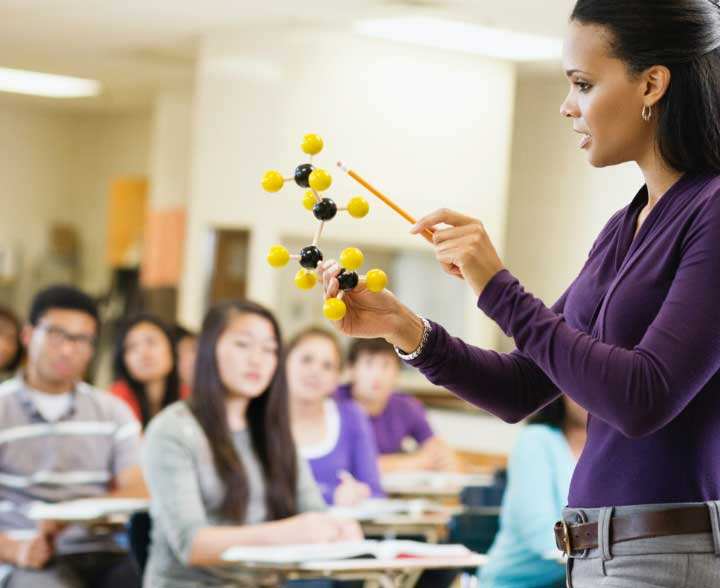 Meeting the needs of students, faculty and teachers in the altered (and still evolving) state of education feels impossible -- but it doesn't have to be. Through the exploration and implementation of CliftonStrengths, engagement, wellbeing factors and other research resources, we can create thriving schools and campuses -- leading to healthier places to learn, work and live.
02
What is Wellbeing in Education?
The idea of wellbeing is used frequently as a synonym for ideas like "mental health," "work-life balance" or "wellness." "Wellness" traditionally focuses on a limited scope of physical and emotional health, and although we can see the effects of mental health and a well-balanced work-life relationship on overall wellbeing, they are not the same. Conceptualizing wellbeing in a way that feels both relevant and measurable starts with looking at what people need to thrive in their lives. So, what is wellbeing in education?
Gallup measured wellbeing based on the five common elements that people need to thrive in their lives. This includes students and educators alike:
Your elements of wellbeing can influence the wellbeing of those around you. Education is unique in the sense that educators have the opportunity to shape the lives of their students each day. We must emphasize the influence of wellbeing on the relationship between a teacher or faculty member and their student.
As a representative of a campus or school system, ask yourself, "Where are we thriving within these five elements, and where do we need to do better? What are our institutional strengths, and what gets in our way of helping students thrive?"
Take time to consider those questions -- and learn more about how to improve the wellbeing and engagement of educators and students, and create a culture of wellbeing.
03
Improve Educator Engagement and Wellbeing While Avoiding Burnout
Our educators are stressed.
Teaching is a rewarding career -- but we also know that the emotional pressures of caring for students, communicating with parents (in the school setting), helping college students navigate their early adult years and facing industry disruptions at every turn (to name a few) can be stressful work. Couple that with time pressures, lesson planning, large workloads and an educator's personal life? It can feel like too much.
We should care deeply about teacher stress and faculty stress for many reasons, but specifically because 1) teachers and college faculty members are real people with large responsibilities, so their stressors must be taken seriously, and 2) these high levels of stress can lead to faculty and teacher burnout.
The World Health Organization defines burnout as a "syndrome conceptualized as resulting from chronic workplace stress that has not been successfully managed."
Burnout can have very negative consequences on wellbeing. Employees who say they very often or always experience burnout at work are 63% more likely to take a sick day, half as likely to discuss how to approach performance goals with their manager, 23% more likely to visit the emergency room, 2.6 times as likely to be actively seeking a different job and 13% less confident in their performance.
Educators experiencing burnout may exhibit feelings of energy depletion or exhaustion, increased mental distance from their job or feelings of negativism or cynicism related to their job, and reduced professional efficacy.
63%
more likely to take a sick day
1/2
as likely to discuss how to approach performance goals with their manager
To put it simply, burnout leads to poor performance and decreased educator wellbeing.
Caring For Those at the Front of the Class
So, how can leaders within higher education, principals and superintendents help combat burnout to improve the wellbeing of educators?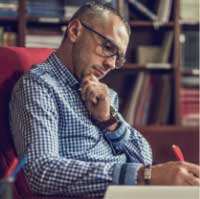 Listen to work-related problems.
Too few managers make frequent employee check-ins and ongoing conversations a high priority. Good leaders know employees as individuals, celebrate achievements, have performance conversations, conduct formal reviews and, above all, respect their employees.
Encourage teamwork.
Coworkers provide an essential line of emotional support for educators who are struggling. It's the leader's responsibility to create an environment where teamwork thrives, people help one another, and everyone has someone at work who is willing to listen.
Make everyone's opinion count.
Actively seek the opinions and ideas of your educators. When employees believe their opinions are welcome and make a difference, they feel important and included, and they begin taking more responsibility for their performance. This sense of ownership reduces burnout because it gives employees a feeling of control over their work -- rather than feeling like work is something that happens to them.
Make work purposeful.
Educators do not want to work just for a paycheck; they want to find meaning in what they do. Leaders must do more than point to the mission statement on the wall -- they must help employees discover how their role and daily tasks contribute to fulfilling that mission.
To improve wellbeing in education, we need to talk about engagement. Engagement and wellbeing are highly reciprocal, each influencing the future state of the other. And when studied in combination, high wellbeing enhances engagement, hoisting employee performance to levels not found through engagement alone.
High levels of engagement among educators could mean:
Lower turnover rates
Lower absenteeism
Higher productivity
Leaders, do you believe your employees would be able to confidently agree with the following items? And if you're an educator, do you confidently agree with the following items?
I have the materials and equipment I need to do my work right.
In the last seven days, I have received recognition or praise for doing good work.
At work, my opinions seem to count.
These are just three of 12 vital statements that help identify the level of engagement for an employee. And within the education industry, these three serve as a great place to start. Make sure each educator (once again, K-12 or higher education) has the proper materials to do their job, receives recognition for the work they do and can voice their ideas and opinions in a setting where they are considered valuable.
An increase in engagement, plus high wellbeing, means a happier, healthier educator.
Lead and Teach With Your Strengths
When educators learn and lead with their strengths , they help school communities grow. The research-based CliftonStrengths assessment is a powerful tool that gives people a common language and vocabulary they can use to better describe, communicate with and understand each other. Educators can use their strengths to teach and engage in their roles in a way that fits their strengths and talents. Their energy and passion can fuel their own great performance and inspire the same from those around them.
Schools and campuses that build a strategy around strengths see measurable positive outcomes in:
Student, educator and alumni engagement
Retention
Wellbeing
Academic achievement
Sense of inclusion
Employees who have the opportunity to do what they do best (i.e., use their strengths) are 57% less likely to experience burnout frequently and 30% more likely to experience feelings of belonging and inclusion. Why? When people can tap into their strengths, they are more engaged, more effective, less stressed and more focused on doing their best work, rather than seeing their job as a burden. Gallup analytics consistently prove that managers get the best performance from their team members when they identify what their people do best, praise them for it, and guide them into tasks and partnerships that maximize their natural talents.
Engaged, thriving schools begin with educators, so take care of the people who are taking care of your students.
04
Improve Student Wellbeing and Create Engaged Students
What does the "best possible future" for your students look like?
Whatever it may be, student success begins with a focus on wellbeing and engagement. Engagement and wellbeing are highly reciprocal, each influencing the future state of the other. And to prepare students for a lifetime of thriving wellbeing, it's important to study students holistically -- giving insights into what contributes to quality wellbeing.
One of the greatest predictors of student success is educator engagement, so it's important to begin there. However, that is not to minimize how vital the individual student experience is in terms of high wellbeing and engagement. That's what the following sections are about: the individual student and their relationships with wellbeing and engagement, so that they may be successful throughout their schooling, from kindergarten to college.
"The idea of fulfilling every student's potential… helps reorient our thinking about a simple truth: When it comes to education, the big picture is really determined by the little picture -- what's best for each individual student."
Higher Education
When it comes to wellbeing in higher education, not enough can be said about the importance of asking students questions and keeping that line of communication open.
Ask your students questions to understand how they are doing in their personal wellbeing: are they thriving, struggling or suffering? How are their relationships with friends, family and the broader campus? Where are they financially? How about in school and future career thinking? How are they staying physically healthy?
"Higher education gives people the knowledge they need to build an engaged life, and the five elements of wellbeing are the currency of a life that matters."
When you demonstrate to a student that you care, they're more apt to be engaged. And engagement produces positive postgraduation outcomes for students and a lasting emotional connection to their school classmates and professors.
Gallup has partnered in research showing that wellbeing, engagement and hope make up one-third of the variance in students' academic success.
---
Graduates who were emotionally supported during college -- who had a mentor who encouraged their hopes and dreams and professors who cared about them as people and made them excited about learning -- are three times as likely to have thriving wellbeing after college.
They're also six times as likely to be attached to their alma mater. One goal for students during their time spent in school is that they learn how to be engaged employees with a focus on wellbeing.
Investing in the engagement and wellbeing of your students while on campus has been linked to long-term outcomes like higher workplace engagement and wellbeing. How students responded to these six collegiate experiences were linked to student confidence in how successful they will be in the job market.
These experiences are:
1.

My professors at [university] care about me as a person.

2.

I have at least one professor at [university] who makes me excited about learning.

3.

I have a mentor at [university] who encourages me to pursue my goals and dreams.

4.

While attending [university] have you had an internship or job that allows you to apply what you're learning in the classroom? (answered as yes/no)

5.

While attending [university] I have worked on a project that took a semester or more to complete.

6.

I am extremely active in extracurricular activities and organizations.
For engaged students, and engaged future alumni, ensure that each student has access to these six experiences.
Although the implementation of strategies to engage students may look different from campus to campus, encouraging students' strengths is a great place to start.
---
Focus on What's Right With Students, Not What's Wrong, to Promote Wellbeing
How well do you really know the students on your campus or in your classroom? Better yet, how well do your students know themselves?
Too often, we focus on what's wrong with students: their weaknesses, their "pain points," their problems. We want to develop those actions, patterns, habits, etc. into something more desirable and well rounded. However, every individual has natural talents and strengths that they can use to succeed in life. Higher education is the perfect place where students can realize and invest in this potential.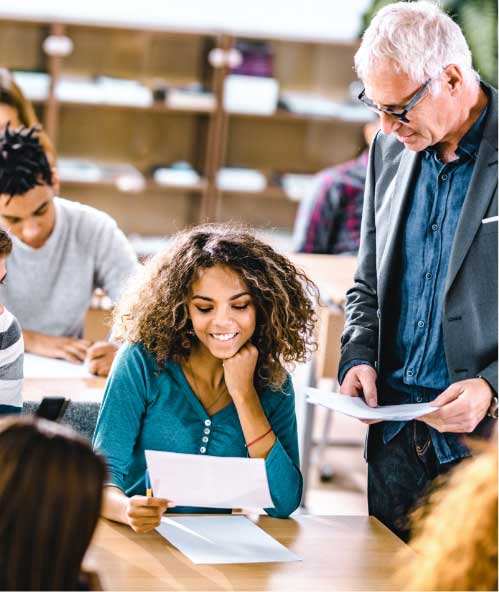 CliftonStrengths for Students uses Gallup's research-based CliftonStrengths assessment to measure the 34 talent themes. It connects students' natural talents to their wellbeing and engagement by focusing on what's right with each student.
This is more than just an assessment that your students take, discuss, then forget. It's a way to turn a student's innate talents into performance outcomes. CliftonStrengths transforms the way students experience their education, sets them up to succeed far beyond the classroom and develops both individual and classroom engagement.
CliftonStrengths shows individuals' unique value to the classroom, but CliftonStrengths also centers the individual within the classroom.
Take low student-retention rates in higher education, for example.
"From a student's perspective, dropping out of college can be a ruinous loss of investment and job potential. From a university administration's view, student attrition is financially hazardous in a time of shrinking budgets. For the institution as a whole, every lost student represents lost alumni funding and a mission opportunity for mission fulfillment."
Handing out CliftonStrengths assessments won't magically reverse the dropout rate. However, by implementing a strengths-based approach to tackle the engagement and wellbeing of students, retention rates will get better as a secondary response to student success and engagement.
Campuses that take a strengths-based approach to student development know that it:
Increases engagement on campus
Improves retention
Improves wellbeing
Fosters greater academic achievement
Creates an exceptional campus culture
Arial image of high school campus
K-12 School Systems
Gallup Education data and analytics show that students' engagement and hope for the future are linked to achievement, grades, absenteeism and plans after high school.
Students who are engaged -- involved in and enthusiastic about school -- are more likely to be hopeful for the future and have better self-reported academic performance than their actively disengaged peers. More specifically, engaged students are 2.5 times more likely to say that they get excellent grades and do well in school, and they are 4.5 times more likely to be hopeful about the future than their actively disengaged peers.
Measuring student engagement and hope can help identify areas of strength within a school, as well as areas of opportunity where different solutions could be implemented.
In fact, 88% of superintendents agree that student engagement is a key measure of school effectiveness.
Engaged students are
2.5x
more likely to say that they get excellent grades and do well in school
Engaged students are
4.5x
more likely to be hopeful about the future than their actively disengaged peers
88%
of superintendents agree that student engagement is a key measure of school effectiveness
Although it may seem too "conceptual" to measure, the Gallup Student Poll is a survey that is made up of the voices of millions of students that has been measuring the hope and engagement of students for over 40 years. The research shows that student success is linked to their wellbeing, engagement at school and their hope for the future.
Here are the four elements that are essential for student success that the Gallup Student Poll measures:
Engagement

: Students' involvement in and enthusiasm for school

Hope

: The ideas and energy students have for the future

Belonging

: Feeling accepted and included as part of the school

Social and Emotional Learning

: How people learn to understand and manage emotions and establish positive relationships with others
By leveraging the different items within the engagement and hope indexes, teachers and schools can decide the best way to implement change to increase wellbeing and engagement within their school system.
05
Create a Culture of Wellbeing to Recruit and Retain the Best Educators
You're in the business of setting students up for success today, tomorrow and well into their futures. However, your campus or school system is also a business. There are faculty and teachers to hire, salaries to pay and the same worries that other businesses face: performance metrics, engagement rates, recruitment, and faculty and teacher retention, to name a few.
This is why establishing a culture of wellbeing and engagement is crucial for success in your school or on your campus. The most critical element of all? Leaders. Higher education leaders or superintendents and principals.
You are critical in the engagement of your faculty and teachers. And when school leaders support students, those students thrive.
Learn More
According to Gallup's research, there's a 15% greater likelihood that direct reports will be thriving in wellbeing when their manager is thriving in their own wellbeing. This is why we believe that great principals are the real difference-makers in the school setting. They, like other leaders, are essential to building engaged, thriving schools.
Those with thriving career wellbeing have a deep purpose in life and a plan to attain their goals. In most cases, they have a leader or manager who makes them enthusiastic about the future and friends who share their passion, reaffirming the importance of quality leaders.
When leaders invest in employees' wellbeing, they are likely to influence organizational growth in the process. When we asked employees the question about whether their manager cares about them as a person, we found that people who agree with this statement:
Are more likely to be top performers
Produce higher-quality work
Are less likely to be sick
Are less likely to change jobs
So, how do you create a thriving, engaged campus? It really does start with education leaders, and leaders should start with strengths. CliftonStrengths is not the why; it is the how. The "why" is thriving wellbeing, which is represented by everything else that's on this page: higher performance, better work, higher engagement, improved retention, etc. Implement a strengths-based approach to realistically achieve those outcomes and create a thriving, engaged campus or school. That's your how.
Retain Your Best Educators
The most progressive leaders not only understand that they are in the business of boosting their employees' wellbeing, but they also use this knowledge as a competitive advantage to recruit and retain employees. Teachers who are engaged are 62% less likely to leave the school system than teachers who are not engaged or actively disengaged.
Here's how to keep your best educators:
Know who is in your candidate pool

. To win qualified candidates, leaders must know what talent they're competing for. Most new teachers entering the profession are millennials. Click here to learn what we know about them.

Engineer an exit survey program to better understand your schools' or campus' challenges

. Just as critical as understanding who is coming into the school or campus is understanding who is leaving the it and why. An effective exit process can help reduce turnover and boost educator engagement.

Maximize your data through predictive turnover analytics

. Predictive turnover analytics could help uncover risk factors for turnover, which would allow leaders to anticipate and mitigate problems before teachers leave.

Engage your top talent to stop them from leaving your school or campus

. Leaders must provide a clear path for development, have creativity and autonomy in the classroom, and create a thriving learning environment for students.
Recruit Top Talent and High Performers
Leaders know that if they can show a prospective employee how working for the organization will translate into better relationships, more financial security, improved physical health, and more involvement in the community -- it will be easier to attract top talent. Teacher turnover and teacher shortages are high; therefore, retaining teachers begins with hiring the right ones. To hire high-quality talent, there must be a small shift in mindset. It can no longer just be knowledge and skills that you're hiring for.
Knowledge and skills are important, but the problem is in thinking that they're enough. The real ticket to successful recruitment is
Knowledge + Skills + Talents = Strengths.
"Is selecting and developing teachers and principals based on their knowledge and skills the most reliable way to promote student success? Success is far more likely to hinge on the innate talents of the teacher, such as their ability to build strong relationships with students. Certainly, the knowledge and skills are necessary, but they should be treated as prerequisites rather than the primary basis for declaring teachers 'highly qualified.' Such a classification should be reserved for teachers who display the talents necessary to promote student engagement."
This goes for both campuses and school systems. However, here are three ways (specific to school system leaders) to set principals and teachers up for success.
Hire talented principals and teachers. Ensure that they possess the right talents for their role.
Offer transformative learning experiences. Empower your principals with the right professional development and training.
Support principals with proven systems and processes. Leaders of school systems must forget obsolete policies and implement proven methods like analytics-based attraction and performance development systems that drive high performance.
Take a closer look at your teacher experience by asking the right questions to better understand your education workplace from the teachers' perspective. Learn to use those insights to create a culture where teachers are engaged and have thriving wellbeing along the way.
06
Disruption in Higher Education and K-12 School Systems
Disruption. Conversations regarding disruption across several industries over the past few years have largely centered on the idea of rapid technological change -- specifically artificial intelligence and emerging tech. But now, every individual has been affected on some level, as the entire world has faced massive waves of disruption.
The education industry has been majorly affected by recent disruptions, but when it comes to getting things "back to normal," you shouldn't hold your breath. The reason for saying this isn't to scare you, but to encourage you. Encourage you to gain the strength to face this particular moment and think of all the ways education has been disrupted and changed over just the last five years, and encourage you to see how disruption is challenging you to think innovatively and strategically today.
Primary objective:
Hope is the belief that "the future will be better than the present," along with the belief that "[you] have the power to make it so," according to the late Gallup Senior Scientist Dr. Shane J. Lopez. During disruptive or stressful times, hope is vital.
Action item:
Take time to pause in your day. Think about what you hope for, whether it be for that day, that week or that month. Just taking that little bit of time to hope each day will be beneficial. Encourage your faculty and students to do the same.
Primary objective:
Not only does having a "best friend at work" foster a sense of belonging and promote engagement, but it is also a predictor of performance. While nurturing and investing in relationships during times of disruption or change may not sound like a high priority, it should be.
Action item:
Identify a friend who you can be vulnerable with, who makes you feel safe and who may even share a role that is similar to yours. Encourage your educators and students to do the same.
Primary objective:
Each person's reaction to disruption will be different. Getting to know which innate strengths of your faculty members are influencing those reactions is key to helping them process and navigate disruption.
Action item:
Take the CliftonStrengths assessment to identify your talents. Learn what sets you apart as a leader and how you can lean into your specific strengths to better aid faculty and students during disruptive times.
---
Times of change and disruption in education can magnify the already rising numbers of mental health issues on college campuses.
Once again, while mental health is not exactly the same as wellbeing, a focus on increasing the five elements of wellbeing could surely have a positive effect on a student's life and overall happiness.
One of the most frustrating consequences of disruption in terms of day-to-day operations can be seen in the increase of remote learning. Educators and leaders should consider heightened feelings of loneliness and isolation among students.
"Nearly 45% of college students were treated for depression or anxiety within the last year," according to one study.
Here are two important items to remember when caring for students who are learning remotely:
Time to pause and reset is more crucial than ever. While disruption may rid students of the opportunity to interact closely with their peers, Harvard professor and Gallup Senior Scientist Arthur Brooks said, "Social connectedness is central to wellbeing and good mental health." So remind your students to pause and reset and consider ways they can engage their peers.
Provide valuable connections through face time. Students need someone to look them in the eye, even while distance or virtual learning. They should be on video calls as much as possible during their classes and put into smaller video groups so they can meaningfully engage with their peers -- even during disruption.
Check in with students and authentically ask them how they are processing any changes caused by disruption. Encourage each faculty member to be a mentor who sees students' individual strengths. This can reduce their sense of isolation and empower them to build a future during these uncertain times.
K-12 School Systems
The resilience of a student reflects their ability to recover from or adjust easily to misfortune or change. So during times of disruption, it's important to realize that student resilience begins with support from teachers and principals.
Caring begins with leadership. Leaders can only truly create engaged teams by demonstrating care, and conversely, being a great leader stems from an innate ability to show care. However, the problem with this is that as some leaders experience unusually high levels of stress due to disruption, they begin to believe that they are "failing, drowning and unworthy of care."
Enough cannot be said about the importance of creating a culture of care to surround these leaders, the educators and their students. This statement can be indicative of the engagement of an employee: "My supervisor, or someone at work, seems to care about me as a person." If it's prominent enough to be one of 12 items that are the greatest indicators of engagement, consider how much more important this element is during times of disruption and isolation.
Since student success is related to the stress levels of their teachers, and teachers' stress levels are related to how supported they feel by leaders -- we can conclude that creating a culture of care starts with leaders, but that it's important at every level of education if a goal of your school is to be a place where leaders feel confident, teachers feel equipped and students feel hopeful for their futures -- even amid disruption.
Just like in higher education, one of the most frustrating consequences of disruption in terms of day-to-day operations can be seen in the increase of remote learning, especially as some parents have to serve as both a facilitator of their child's schooling and in the role of their full-time job and household responsibilities.
It can be a major challenge, both academically and socially, for children to be separated from their teachers and peers. Remote learning exposes challenges, such as keeping students engaged and focused, technical issues with the internet or computer, inability to access proper educational resources, social separation, etc. To combat this, even when disruption is inevitable, leaders should encourage teachers to check in frequently with students and their caregivers. Keep the line of communication open as every party attempts to navigate disruption together.
The priority for each student should be their wellbeing and school engagement.
Improve the Wellbeing and Engagement on Your Campus or in Your School Today
Don't wait to improve the lives and performance outcomes of your students, teachers and faculty. Learn more about wellbeing, engagement and the power of CliftonStrengths for Students.