Others see people problems.
You see possibilities.
Learning for HR professionals should reveal how to bring out the best in people. Ours does. Gallup courses give you research-supported best practices for developing and coaching employees, equipping your managers to succeed, and building a company culture that engages employees and grows business.
PARTNERING WITH GALLUP
Keep your company strong.
HR professionals who bring our research and advice to their organization no longer struggle to answer these questions:
How can we win the best people?
How can we retain our top talent?
How do we improve our performance management?
How can our leaders and managers be more engaging and effective?
What can we do to transform our culture?
When your HR teams build their people expertise, you keep your company strong, productive and performing. Our courses build your skill and knowledge on one solitary subject: people.
YOUR ISSUES
Transform your workplace.
Perfect your employee experience to create brand ambassadors. The answer doesn't exhaust the question, but the employee experience offers a bird's eye view of your culture, making it a great starting place.
The employee experience is the sum of all interactions an employee has with your organization, from prerecruitment to post-exit. Today's employee is a consumer of the workplace. Employees are no longer satisfied with clocking in and out and receiving a paycheck. They are looking for meaning in their work; a supportive, collaborative environment; and an employer that can match the lifestyle they want to enjoy.
Employers need to get seven major stages right within the employee experience: Attract, Hire, Onboard, Engage, Perform, Develop and Depart.
For your current employees, three stages stand out. Adjust and refine the three elements until you can answer "yes" to questions such as these:
Engage: Do our employees show up every day enthusiastic and involved in their work? Do we build on strengths and purpose?
Perform: Do performance reviews seem fair and accurate? Are we driving expectations to higher levels?
Develop: Do our top performers see a future with us? Do we offer flexible, personalized career paths? Do we continually coach career growth?
Recommended Courses:
Creating an Engaging Workplace Course for Engagement Champions and Gallup Global Strengths Coach (formerly Accelerated Strengths Coaching)
Professional Credit
Earn professional credit in our courses.
Professional Credit Hours
Your career should develop when you do. That's why our courses count toward continuing education and recertification requirements for many of the most important organizations for HR professionals.
Tailored Learning
Your culture is unique. Let's put it to work.
Working well, your culture can attract top talent and make your employees want to work harder and perform better. We can help you create a custom learning journey at your company, tailored to strengthen your unique culture and meet your specific needs and goals.
No. 1
The No. 1 reason people change jobs today is career growth opportunities.
2 in 10
Just two in 10 employees strongly agree that their performance is managed in a way that motivates them to do outstanding work.
21%
Only 21% of employees strongly agree that their pay and incentives motivate them to achieve their goals.
Learning Methods
Choose how you want to learn.
Pick one Gallup learning option, or combine it with another. We've created Gallup learning so that you can learn from almost anywhere.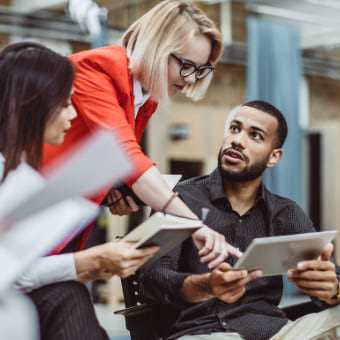 In-Person and Virtual Courses
Get unbeatable learning experiences in person or from a distance with world-class Gallup teachers.
Gallup Events and Webinars
Join the conversation to stay at the top of your game in a city near you or on your device.
Configured Learning
Get a learning solution custom-made to fit your unique challenges, business needs and culture.
GALLUP ACCESS
Use our learning platform to help you create an exceptional workplace.
Collect employee feedback.
Ask important workplace questions that are scientifically linked to your business outcomes.
Discover what to do next.
Get management best practices and proven advice on every important workplace topic.
Scale your learning.
Offer the right learning, at the right time, with a learner-centric approach.
Featured Insights
Start learning now with our workplace advice and insights.
Concise and data-driven, Gallup content helps you make great decisions without slowing you down.
Contact Us
Build expertise that helps your organization achieve its goals.
Connect with us by filling out the form below. We'll contact you by email or phone to discuss your Gallup learning options.
Partner with Gallup
Become the one who knows people.
We can help you understand what your employees want better than anyone else in your organization -- and the world. Partner with Gallup or attend our courses to better understand people and how they develop and perform at their best.