Education
Explore Gallup's research.
A Gallup and Walton Family Foundation survey shows that Gen Z males in the U.S. express higher STEM interest than females, revealing key gender gaps.
A Gallup and Learning Heroes study shows that U.S. parents rely on grades to gauge their kids' success, but tests show racial gaps in actual performance.
Research shows that a strengths-based approach to education positively impacts student engagement and retention.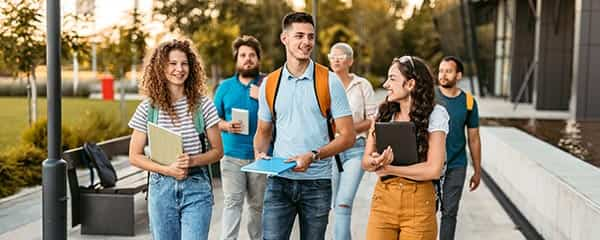 With universities urgently seeking ways to engage and retain students, CliftonStrengths offers a solution to these issues and so much more.
Almost nine in 10 parents believe their child is at or above grade level, but other academic measures tell a different story.
Discover parents' perceptions of their children's academic progress.
A recent Lumina Foundation-Gallup study shows that in 2022, Hispanic students enrolled in a post-high school program in the U.S. were more likely than any other race or ethnicity to feel discriminated against.
A recent Lumina Foundation-Gallup study found that Hispanic students struggle to stay in college more than students of any other race or ethnicity.
Gain a globally inclusive understanding of wellbeing.
A new Gallup-Walton Family Foundation study reveals Gen Z has profound distrust in major U.S. institutions, with science earning the highest trust.
Gallup and Walton Family Foundation find Gen Z value college despite rising costs and declining adult confidence.
As the world's newly minted most populous country looks to the future, Gallup data show that young Indians are more hopeful than they have been in most years.
Americans' satisfaction with the quality of K-12 education in the U.S. has fallen to match the lowest point on record, but parents of K-12 students are largely satisfied with the quality of their child's education.
Thirty-eight percent of U.S. parents of K-12 children fear for their child's physical safety at school. While down slightly from last year, the reading still ranks among the highest in the past two decades.
Americans with at least some postsecondary education are about twice as likely to volunteer their time as those with no education after high school.
Joe Biden's job approval rating is a fairly steady 42%. Ratings of his handling of the Ukraine situation and race relations are slightly higher than his overall rating.
Teacher engagement hasn't recovered since the pandemic. See how leaders can address the elements most affected.
Four in 10 college students have interned; difficulty in finding positions is a barrier. First-generation students report the least experience.
Three in four U.S. college students (76%) enjoyed their day, but 66% faced stress, 51% dealt with worry, 39% experienced loneliness, and 36% felt sadness.