Education
Explore Gallup's research.
Learn how your district can attract, recruit, develop, and retain talented teachers to create thriving schools during a teacher shortage.
Gallup's solutions and research improve engagement and increase hope and well-being at every stage of a student's life.
Guide institutional strategy by harnessing the power of Gallup's analytics and advice.
Lead your school to success by creating a strengths-based culture.
Transform your school's culture with Gallup's strengths-based solutions.
Develop engaged and thriving organizations in the education industry.
Aiming education at great jobs and great lives.
We have a legacy of visionary research on what people worldwide think about education.
Research proves the importance of having a best friend at work. Teachers have room to grow in making the most of school relationships.
Creating thriving students and schools.
"Liberal" is politically charged, and "arts" has a negative connotation regarding improving graduates' job prospects.
How to fix the misalignment between the talents employers demand and the skills graduates have as they enter the workforce.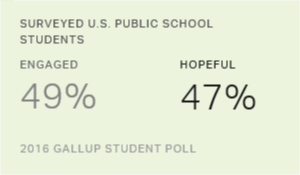 Engaged and hopeful students fare better in school and in life.
Most new teachers are millennials. But few public school superintendents think their districts understand this generation's workplace needs.