Get the No. 1 employee engagement survey and all the strategic advice that goes with it.
Gallup's Q12 employee engagement survey and resources are the most effective way to create a stronger, more engaged workplace.
It's a simple approach.
But it's the one that works.
Gallup has studied millions of managers and organizations worldwide. And we've discovered what the best do to build engaged workplaces.
We discovered there are 12 employee needs that, when met, improve your organization's productivity.
These 12 needs make up the questions on Gallup's famous Q12 survey.
Why ask your employees hundreds of questions when you can get the most accurate results and action ideas by asking only 12?
Employee engagement doesn't stop at a survey with Gallup Access.
We know employee engagement is effective only when it's part of your organization's culture and business strategy.
That's why our platform sets managers up for success with learning and advice they can access every day to develop targeted conversations with their teams.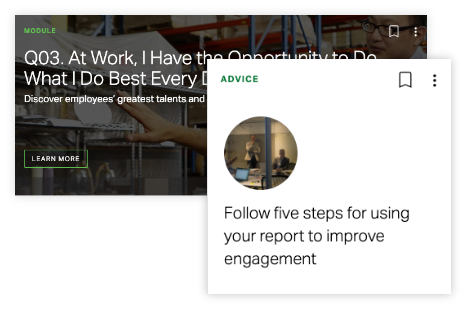 What makes Gallup's Q12 survey the best?
The Right Questions
12 Items That Connect to Performance
You don't have to ask a lot of questions. Just the right ones.
Gallup's 12 items accurately measure what matters most to your employees and your business.
Actionable Results
Results in 24 Hours That Mean Something
You won't just get numbers. You'll get the meaning behind those numbers and the advice you need to act fast.
Proven Business Outcomes
21% Higher Profitability for Engaged Teams
Gallup's Q12 survey results tie directly to outcomes such as productivity, profitability, and employee retention and turnover.
The most engaged teams in Gallup's database -- when compared with the least engaged teams -- experience an average of:
24%
Lower Turnover (in high-turnover organizations)
10%
Higher Customer Metrics
Extensive Database Comparisons
35 Million Respondents in Our Engagement Database
We aren't new to the science of employee engagement. In fact, we helped launch it.
We've spent decades studying what matters most to employees and teams, meaning you have 35 million people (and counting) to compare your results to.
Easily identify areas of strength and opportunity, and then take action.
Using the Q12 survey in Gallup Access, you get:
your overall engagement score and how it compares with scores in Gallup's database
scores for each of the Q12 survey items and how they compare with scores in Gallup's database
the number of employees who completed the survey and how many answered each item
a detailed guide to help you communicate with employees about the survey
additional manager and team resources including videos and team conversation guides
the ability to add other questions to the survey
An engaged workplace is only 12 questions away. Request a demo today.
Fill out your information to have a Gallup representative contact you via email or phone within 24 hours.