Confidence in News Media and Democracy: Knight Foundation Leads National Conversation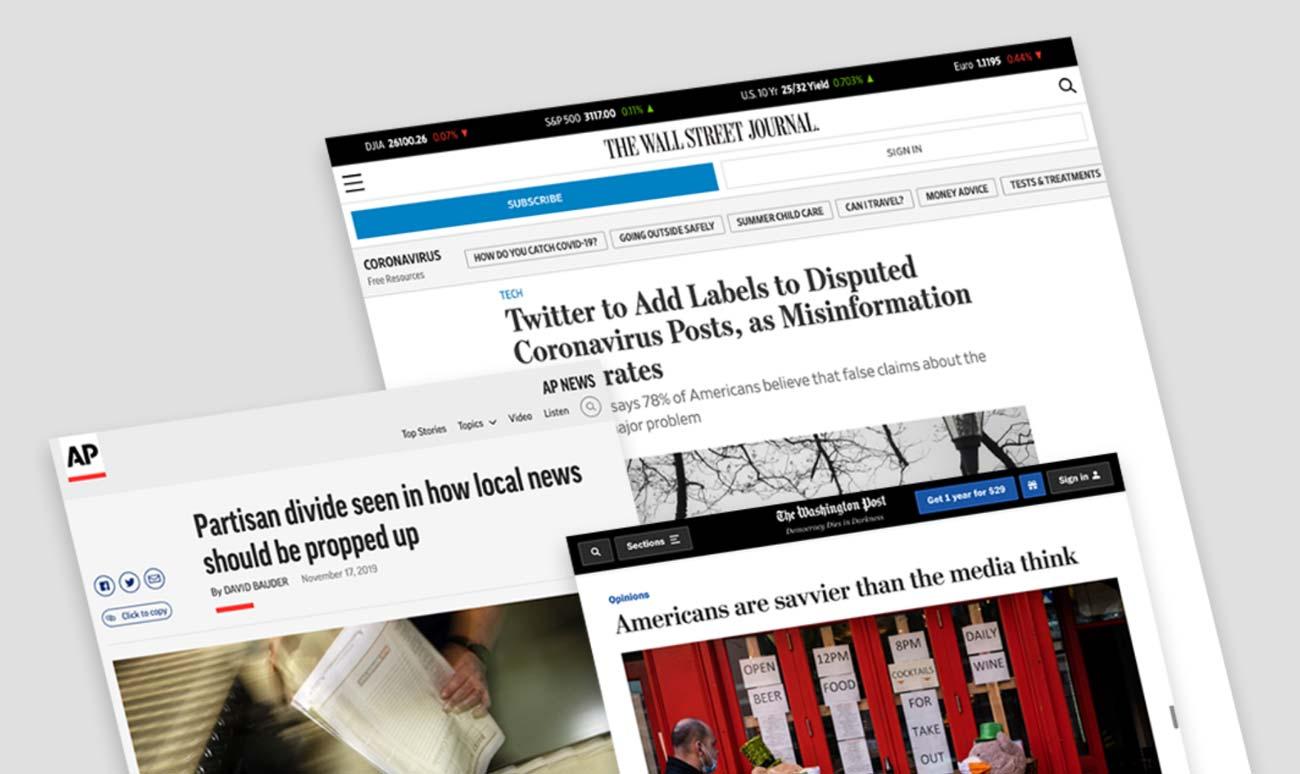 Featured in: The Washington Post, The Wall Street Journal, AP News
The stakes could not be higher for understanding the state of Americans' trust in the news. The coronavirus pandemic and social unrest in the U.S. only underscore the importance of the ongoing work of the John S. and James L. Knight Foundation to invest in journalism, the arts and local communities.
The organization began partnering with Gallup in 2017 to fulfill its mission of supporting informed and engaged communities by filling the data gap in public opinion on media, technology and freedom of expression in the digital age. The partnership has uncovered new insights about trust in mass media and implications for the future of democracy.
50,000+number of unique respondents
The Challenge
United and Divided by Technology
As the informational landscape and influence of mass media have rapidly transformed, Americans' trust in the media is eroding in real time. News organizations must fulfill the democratic responsibilities of both informing the public and holding government leaders accountable, while public confidence is challenged by emerging concerns over the role that internet and technology companies -- especially social media -- now play in our democracy.
Knight Foundation has a long history of supporting journalism and believes informed and engaged communities are essential for a healthy democracy. The organization sought a partnership that would spur evidence-based community organizing and policy changes to address the urgency of the current democratic climate.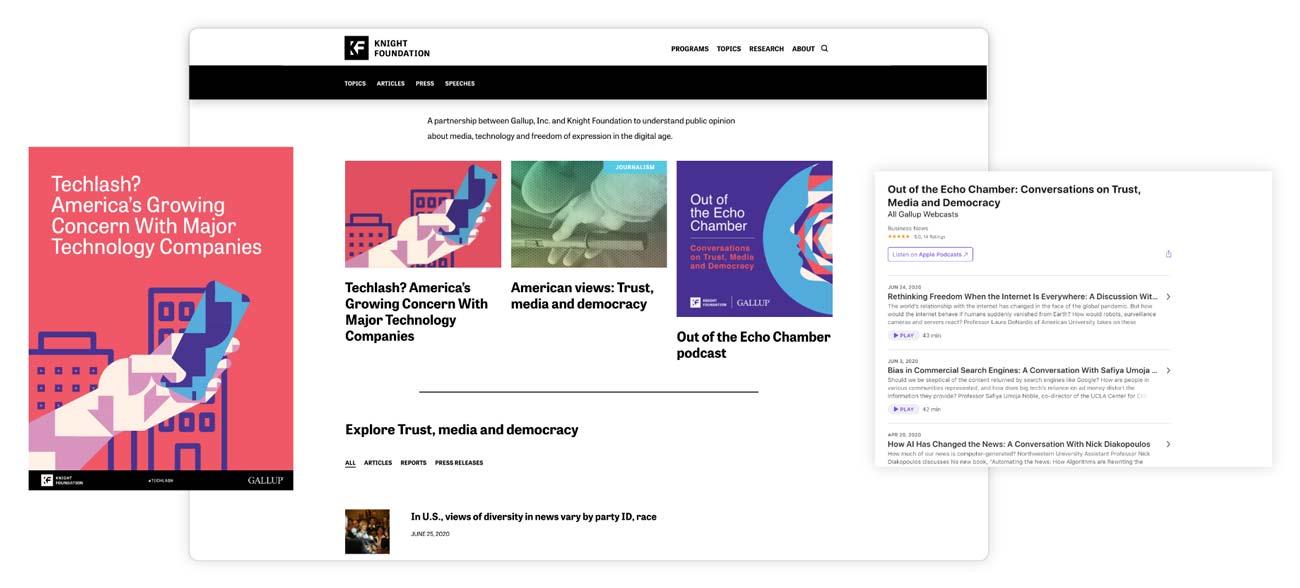 Knight's research findings have been shared in reports, articles, a podcast and other engaging formats.
The Approach
Measuring Trust, Bias and Media Diets
Misinformation, propaganda and mistrust in institutions of all kinds are not novel. But though technology and social media connect us with media and each other faster than ever before, they also create a new, uncharted territory for democracy.
To understand the full scope of Americans' interactions with the news media, Gallup's researchers and methodologists developed long-range tracking and topical surveys to capture both changing attitudes over time and immediate reactions to social disruptions such as COVID-19. An experimental news aggregator platform, NewsLens, was created as a "living portal" to measure actual news consumption behavior versus self-reported behavior.
These innovative research techniques are tracking perceptions in real time, filling a data gap and being converted into engaging, user-friendly formats to establish Knight as an influential thought leader on implications and solutions for issues in mass media and society.
Report: American Views 2020: Trust,

Media and Democracy
This report is the second benchmark study in Knight's landmark Trust, Media and Democracy research program. For the 2020 American Views survey, Gallup and Knight polled more than 20,000 U.S. adults and found deepening pessimism and further partisan entrenchment about how the news media delivers on its democratic mandate for factual, trustworthy information.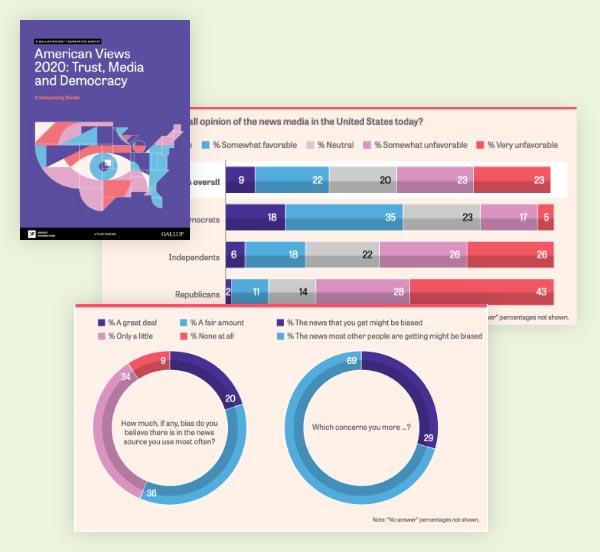 Research Innovation: NewsLens
NewsLens is a groundbreaking, online experimental platform that is expanding the boundaries of traditional social science. Focusing on the user experience and creating a NewsLens brand to engage users, it provides real-time information on perceptions of bias and media consumption behaviors. In effect, it captures how Americans really behave with media -- what they do, not what they say they do.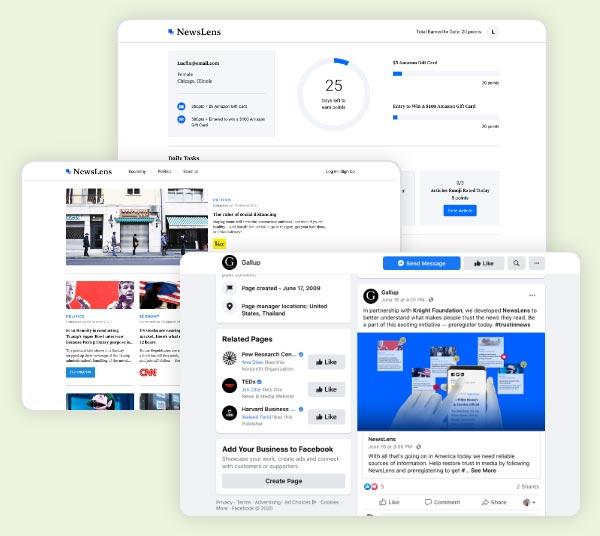 Report: Techlash? America's Growing Concern With Major Technology Companies
This report explores the public's growing concern about the spread of misinformation, election interference, data privacy, and the power and responsibility of tech companies in regulating the spread of misinformation without censoring self-expression.
It provides valuable insights for both tech companies and policymakers and has been cited in congressional testimony.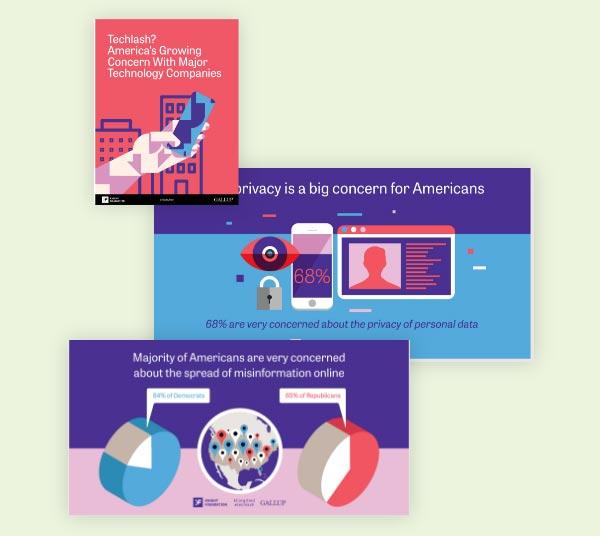 Podcast: Out of the Echo Chamber
The "Out of the Echo Chamber" podcast has received thousands of listens as Gallup Principal Economist Jonathan Rothwell, in partnership with Knight Foundation, leads in-depth conversations with luminary thought leaders about how to restore a more civil and trustworthy media environment.
To date, there are 15 episodes covering topics from the politics of news choice to bias in commercial search engines.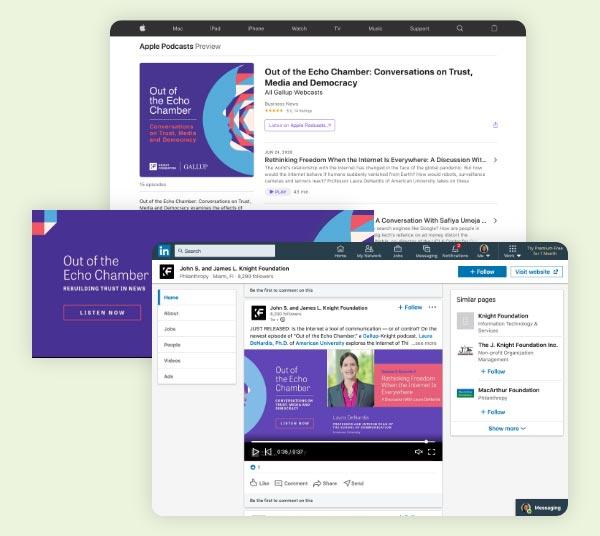 The outcome
Restoring the Health of a Democracy
The findings of Gallup and Knight's research have been shared in a series of reports with over 12,000 downloads, have been cited in dozens of articles, and regularly appear in The New York Times, The Washington Post, The Wall Street Journal and other news outlets. Researchers have presented at national journalism conventions and put leading experts, policymakers and academics in the same room during events in Gallup's Great Hall in Washington, D.C.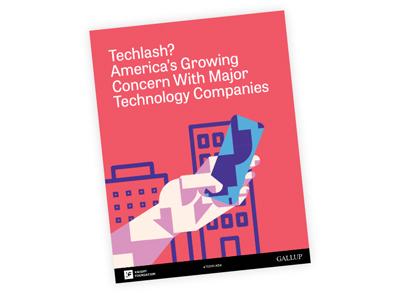 Techlash? has garnered over 100 media mentions in various outlets, including CNN, U.S. News & World Report and NPR.
The report Techlash? America's Growing Concern With Major Technology Companies was cited in congressional testimony before the Subcommittee on Communications and Technology and the Subcommittee on Consumer Protection and Commerce at the U.S. House hearing "A Country in Crisis: How Disinformation Online Is Dividing the Nation." Gallup-Knight research on local news was cited during U.S. Senate Committee on Commerce, Science and Transportation deliberations about the future and importance of local news. Over 700 individuals attended the webinar "Free Expression vs. Misinformation Online: Who Decides?" which included six luminary panelists: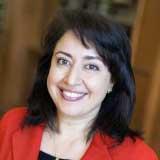 Evelyn Aswad
Professor of Law and Herman G. Kaiser Chair in International Law at the University of Oklahoma College of Law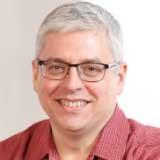 Paul Barrett
Deputy Director of the New York University Stern Center for Business and Human Rights, Adjunct Professor of Law at NYU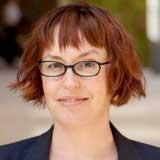 Daphne Keller
Director of the Program on Platform Regulation at the Stanford Cyber Policy Center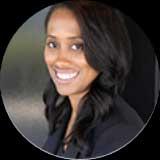 Heather Moore
Governance and Strategic Initiatives, Facebook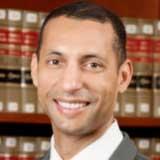 Spencer Overton
President, Joint Center for Political and Economic Studies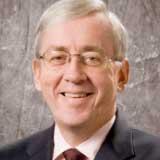 John Samples
Vice President and Founder of the Center for Representative Government at the Cato Institute
Knight's work will continue to provide crucial insights for navigating the rapidly transforming informational landscape and restoring trust where it's needed most.
A Gallup-Knight exclusive event: Watch a policy discussion on the future of local news.
"At a time when more information is available than ever before, people feel less informed. Mostly, they just don't trust information online. We found that Americans believe 80% of what they see online is biased, and 64% is inaccurate."
Sam Gill Senior vice president and chief program officer for Knight Foundation
Some Key Findings on Media Influence on Society
More than eight in 10 U.S. adults believe the news media is critical or very important to our democracy.
74% of Americans are very concerned about the spread of misinformation on the internet.
59% of Americans believe elected officials and political candidates are paying "too little" attention to issues dealing with technology and technology companies.
Making change that matters.
Learn how organizations everywhere are turning the workplace — and the world — into a better place.