Wellbeing for Planet Earth Foundation Seeks to Develop Globally Inclusive Understanding of Wellbeing

Now more than ever, wellbeing is top of mind for individuals, organizations and governments around the world -- how to measure, enhance and sustain it. Recognizing this urgent need (and more specifically that most people's understanding of "wellbeing" has traditionally been derived from Western-centric ideals), the Wellbeing for Planet Earth Foundation and Gallup joined to create the Global Wellbeing Initiative (GWI) in early 2020.
The GWI aims to develop a more global and inclusive understanding of wellbeing -- one that acknowledges and incorporates cross-cultural perspectives into the science of wellbeing. It is through elevating global perspectives on wellbeing that the GWI will establish global wellbeing metrics and in doing so empower individuals, organizations and governments to better understand how to promote wellbeing for all. Read on to learn about the challenge, the approach and the outcome.
The Challenge
Who Defines Wellbeing?
At a time when the importance of wellbeing is almost universally acknowledged, the question "How do we measure wellbeing?" is as important as the question that should precede it: "How do we define wellbeing?"
The science of wellbeing has traditionally been heavily influenced by Western-centric ideas, but the notion of wellbeing and the effect it can have for better or worse on an individual's life is universally important. To expand our understanding and conceptualization of wellbeing -- and to augment existing, well-established measures such as the Cantril Self-Anchoring Striving Scale's ladder of life evaluation -- the Wellbeing for Planet Earth Foundation partnered with Gallup to establish the Global Wellbeing Initiative so that through research and incorporating cross-cultural perspectives, the concept of wellbeing can broaden and be globally inclusive.
Global Wellbeing Initiative Insights
Visit the Global Wellbeing Initiative insights page to explore the latest global wellbeing research.
The Approach
Elevating Global Perspectives on Wellbeing
To succeed in this ambitious effort, the GWI crafted an innovative research agenda aimed at improving societies, families and workplaces. This includes developing new models of wellbeing to reflect the effects of culture, community, governance and nature.
However, data alone aren't enough when the task at hand is addressing those whose perspectives are rarely heard. That's why the GWI is also committed to building cross-cultural partnerships and creating community to advance its mission and objectives. This effort to build community includes hosting an annual Global Wellbeing Summit where stakeholders from a variety of backgrounds and perspectives come together for policy and scholarly roundtables, the goal of which is to stimulate cutting-edge research in wellbeing and provide practitioners with better tools and data for action.
It is through rigorous scientific collaborations, a shared commitment to wellbeing, and the involvement of stakeholders from a variety of backgrounds and perspectives that the GWI aspires to successfully broaden the concept of wellbeing to be globally inclusive.
"The Wellbeing for Planet Earth Foundation is committed to exploring and developing a truly global and inclusive perspective on wellbeing. Recognizing the role of wellbeing in our lives and understanding its cross-cultural nuances are especially important during these unprecedented times while we are dealing with the coronavirus crisis."
Yoshiki Ishikawa, President, Wellbeing for Planet Earth Foundation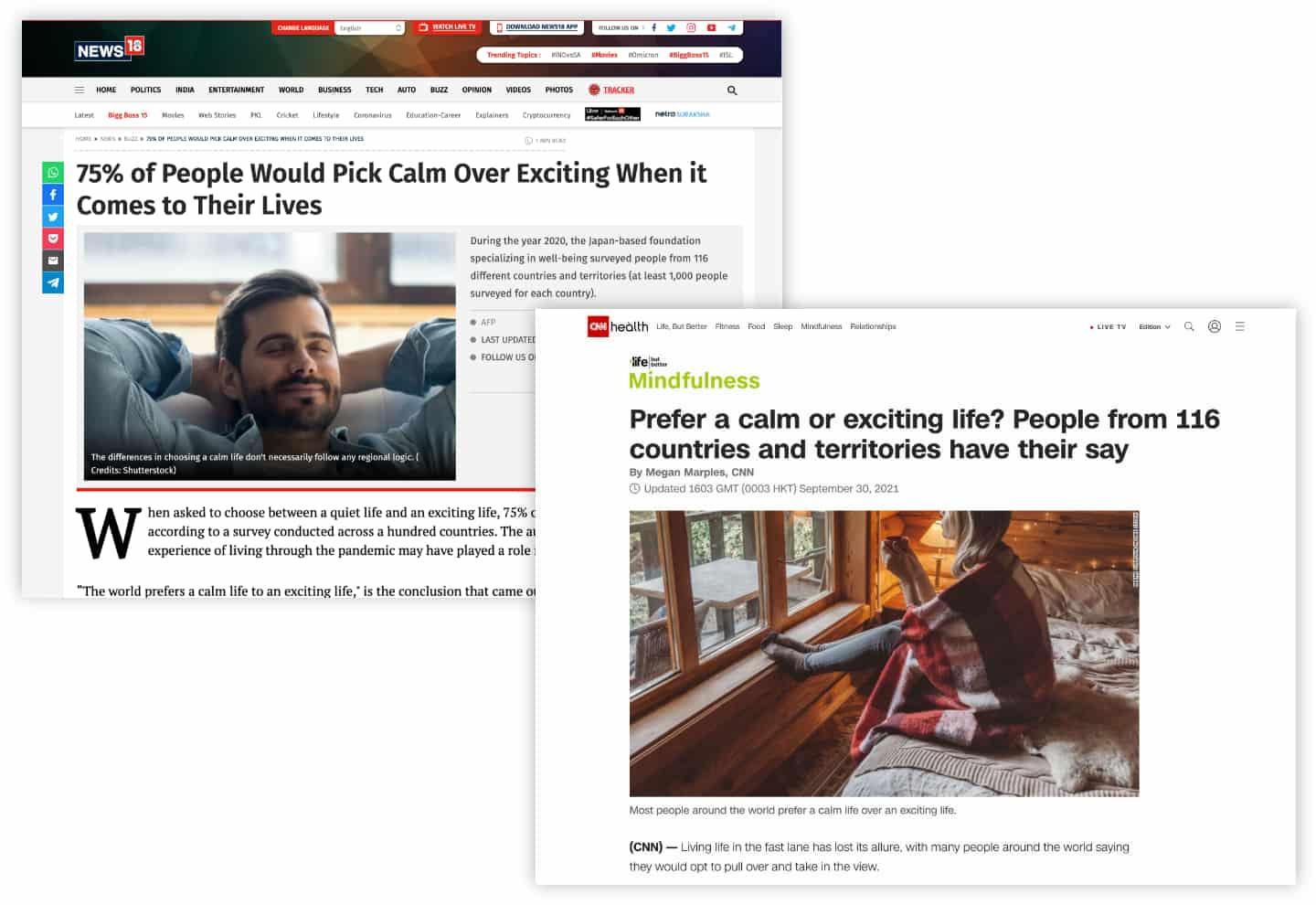 Featured on CNN and News18.com
The Outcome
Striving Toward Wellbeing for All
After establishing globally accepted statistics to assess and measure wellbeing, the GWI will continue to research and analyze the findings from these metrics. The initiative is committed to sharing data and research findings along with exchanging ideas through the annual summit and ongoing dialogue with the GWI community.
The GWI will also disseminate findings from the research and share publications that introduce the new global wellbeing insights to thought leaders, influencers, media and the public.
It is through these efforts that the GWI aspires to better understand how to promote wellbeing for all. This initiative seeks to complement the work of the World Happiness Report by building on existing wellbeing research. Looking ahead, the GWI is expected to contribute a chapter to the 2022 World Happiness Report, which will be published on March 18, 2022.
Making change that matters.
Learn how organizations everywhere are turning the workplace — and the world — into a better place.