Build Engaged & Thriving Schools
The building blocks to creating a thriving community are rooted in education. Prepare your students to get great jobs and lead fulfilling lives by partnering with Gallup to transform your school's culture and boost your students' hope and engagement.
Our Approach
We help create exceptional schools one student at a time.
Learn practical steps to take from Gallup K-12 Education's team of consultants and experts to help your school thrive.
We help education leaders build a culture of equity where all students can discover their natural talents, learn how to develop their talents into strengths and do what they do best every day.
Students thrive when an engaged network of parents and family, school leaders, teachers, coaches, mentors, friends, and neighbors supports them. Gallup can help you build these types of relationships today.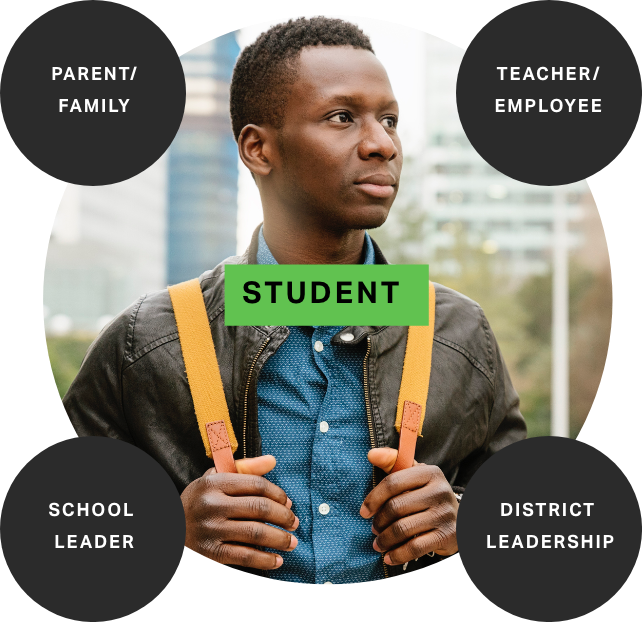 Gallup experts help schools enhance their district identity for a clearly defined and highly committed culture. We support schools in building a strong principal pipeline because school leadership is a top driver of parent engagement.
We help districts attract, identify and hire the most talented teachers and staff. Our strengths-based tools will develop the natural talents of those teachers, staff and students through the discovery and use of their talent and strengths. By measuring and increasing teacher, student, parent and community engagement, schools can achieve improved outcomes and a thriving school culture.
Set Yourself -- and Your Students -- Up for Success
Learn what great teachers do differently in Teach With Your Strengths. Discover fresh approaches to bring public schools back to life in Building Engaged Schools and learn what motivates great teachers and inspires students to tap into the considerable potential in America's classrooms.
Shop Education Books
Success Stories
Get proven results that matter.
Success Story
Teacher Talent and Engagement Boost Student and Human Capital Outcomes
Challenge: Florida's Pasco County Schools (PCS) is facing a serious shortage of teachers. Gallup and PCS leaders broadened the scope of their 20-year partnership to focus on teachers' engagement, a proven factor in driving performance and diminishing absenteeism and attrition.
Approach: Using the Gallup's Q12 employee engagement survey, PCS gathered baseline teacher engagement levels, and based on those results, made teacher engagement an ongoing priority. They also used analytics-based hiring to improve their teacher selection system.
Impact: Since partnering with Gallup, PCS received results from a District Impact Analysis that showed the powerful benefits of emphasizing both teacher talent and engagement. Top-talent teachers are 2.8 times more likely than their lower-talent counterparts to be engaged in their classrooms.
View PDF
2.8x
Top-talent teachers are 2.8 times more likely than their lower-talent counterparts to be engaged in their classrooms, which boosts teacher performance and lowers absenteeism.
Success Story
Engagement Growth Through Leadership Development
Challenge: Canada's Greater St. Albert Catholic Schools (GCACS) partnered with Gallup to create a welcoming learning community that inspires its students to live a full life of service to others.
Approach: GCACS selected the best employees using Gallup's TeacherInsight assessment and measured employee engagement using the Q12 survey to ensure that every department had the opportunity for success.
Impact: About six in 10 fifth- through 12th-grade students in the district are engaged with school, which outpaced the overall convenience sample from the 2015 Gallup Student Poll.
View PDF
14+
In eight years of implementing Gallup-recommended approaches to professional development, employee engagement increased by 14 percentage points to the highest level achieved by any education organization to date.
Advancing Mission Through Building Engagement
Challenge: A large U.S. school district sought additional ways to encourage further development and excellence within students, employees and parents.
Approach: School leaders received coaching and embraced a strengths-based philosophy to boost engagement, performance, and productivity as well as lessen absenteeism and turnover.
Impact: The school district's efforts to increase engagement and incorporate strengths-based development into each of its schools have helped students, teachers and parents become more engaged with the district than ever before. Engagement levels within the school system outpace those of many of the district's peer organizations.
View PDF
10%
Schools with higher employee engagement have an average of 10% more students who are engaged at school, and schools, and schools with higher employee engagement have, on average, 4% more hopeful students.
K-12 Solutions
Let us help you make the most of hope and engagement in your district.
We design our education tools, products and services to meet your school where it is on its development path and create an outline for future success. From our strengths-based products to talent-based hiring and a focus on employee, student and parent engagement, contact a Gallup Education expert to discuss how to change the conversation about hope and engagement at your school.
Featured Insights
View Gallup data and discoveries that transform schools.
From annual reports on the nation's superintendents to the Gallup Student Poll, these shared insights will inspire your school's educational path and start new conversations for development. Check back often for the latest in Gallup K-12 Education.
Change the conversation at your school.
Gallup's thought leaders, scientists and data researchers are the leading authority in education. They have years of experience in the education industry developed from genuine relationships with districts nationwide. Our team is excited to share insights from your data and provide feedback and products based on your needs. Our experts are available to help create the path for your school's continued success.