Research Hub
Lumina Foundation
Gallup and Lumina Foundation are committed to studying perceptions around the most pressing issues facing higher education.
Featured Report
The State of Higher Education 2023 Report
College enrollment rates are lower now than they were before the pandemic, and perhaps even more concerning, undergraduate credential completions fell for the first time in a decade in the 2021-2022 academic year.
Gallup and Lumina Foundation have partnered to better understand barriers to enrollment, why currently enrolled students may be considering leaving their programs — and what makes them stay.
Download the State of Higher Education 2023 report to discover the experiences of currently enrolled students and the attitudes and beliefs about higher education among unenrolled U.S. adults, including those with previous postsecondary experience.
Results for the Lumina Foundation-Gallup State of Higher Education 2022 study are based on web surveys conducted Oct. 26 to Nov. 17, 2022, with U.S. adults aged 18 to 59 who have a high school degree/diploma or equivalent and have not yet completed an associate or bachelor's degree. Gallup surveyed 12,015 total U.S. adults, including 3,949 who were currently enrolled in an associate or bachelor's degree program, 2,059 who were enrolled in a certificate or certification program, 3,004 who have some college experience but no degree and are not currently enrolled, and 3,003 individuals who have never enrolled in higher education. Respondents were interviewed via Dynata's web-based panel.
The data are weighted to match national demographics of gender, age, race, Hispanic ethnicity, education and region. Demographic weighting targets are based on the most recent American Community Survey figures for the aged 18 to 59 U.S. population.
41%
of students enrolled in a postsecondary education program have considered "stopping out" in the past six months.
41%
of students said it was "very difficult" or "difficult" for them to remain in their programs in 2022.
47%
of unenrolled U.S. adults have considered enrolling in a bachelor's degree, associate degree, industry certification or certificate program in the past two years.
Lumina Foundation in the Media
---
---
---
---
Other Work
Additional Work Insights
Additional Reports
Explore Past Gallup-Lumina Reports
Gallup and Lumina have partnered to measure pressing issues surrounding education since 2012. Explore past reports to see key findings and insights.
Additional Reports
Stressed Out and Stopping Out: The Mental Health Crisis in Higher Education
See how college students' personal mental and emotional health is affecting their academic career and how they feel about their institution's mental health resources.
Additional Reports
Balancing Act: The Tradeoffs and Challenges Facing Black Students in Higher Education
Learn more about the difficulties faced by some Black learners as they pursue higher education while navigating difficult learning environments and balancing multiple responsibilities.
Additional Reports
The State of Higher Education 2022 Report
Discover the array of ongoing risks to student enrollment and the perceptions of policies and programs that allowed them to remain.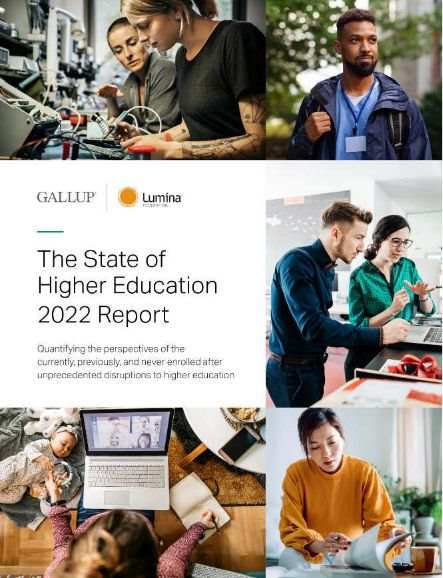 Additional Reports
Gallup State of the Student Experience: Fall 2020 Report
Understand how COVID-19 has impacted students pursuing associate and bachelor's degrees during the Fall 2020 semester.