Research Hub
Lumina Foundation
Gallup and Lumina Foundation are committed to studying perceptions around the most pressing issues facing higher education.
Featured Report
Education for What?
Despite enrollment and completion rates declining and Americans' confidence in higher education falling, the economic case for earning a college degree remains solid. College graduates earn about $1 million more over the course of their working years than U.S. adults with no college degree, on average.
However, a college degree has value beyond financial gain. To date, most studies that attempt to find the value of pursuing post-high school education focus on a single outcome, like earnings or cognitive ability.
The latest study from Lumina Foundation and Gallup examines a wide range of economic and non-economic outcomes for U.S. adults across various levels of educational attainment. The Education for What? report explores the association between each additional year of higher education and a variety of work and life outcomes and the extent to which Americans believe education promotes these outcomes.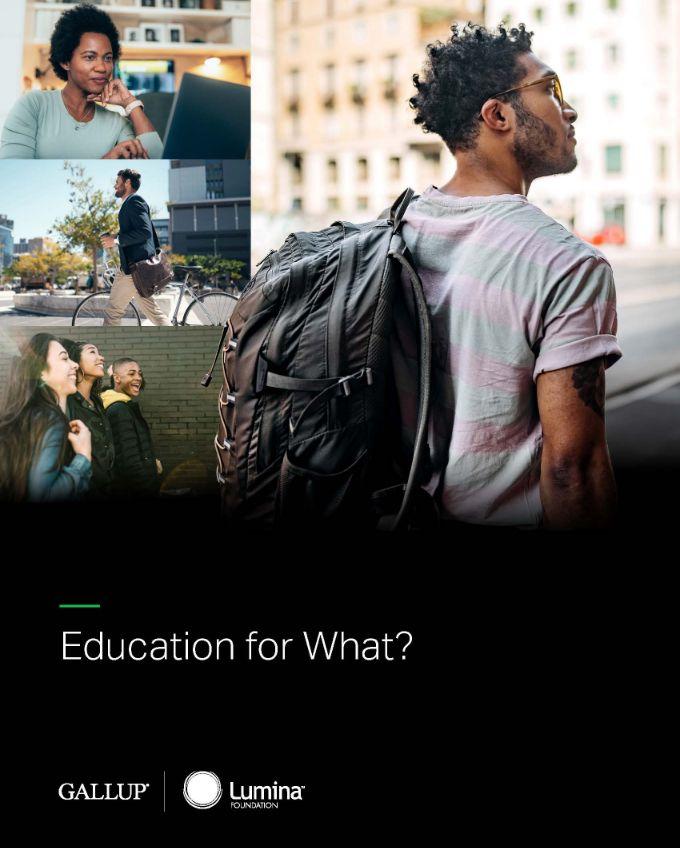 The results show that additional years of education beyond high school make for a healthier, more civic-minded individual who is more likely to interact with neighbors and family members, and to do work that aligns with their natural talents and interests.
Download the report to learn more.
Results for the Lumina Foundation-Gallup Education for What? report were derived from existing data sources for which outcomes could be analyzed by additional years of education beyond high school. These outcomes included physical and mental health assessments, income, job quality, cognitive ability, civic engagement, service to others and social trust. In addition to using available survey data from Gallup and other research organizations, Gallup conducted a nationally representative web survey Nov. 9-27, 2022 with 14,054 U.S. adults who were members of the Gallup Panel to address gaps in the data. The new survey also measured the extent to which Americans believe that additional education leads to positive individual and societal outcomes.
The November Gallup Panel survey was weighted to correct for unequal selection probability and survey non-response. Post-stratification weighting adjustments were designed to make the sample representative of the adult (18 and older) population on gender, age, race, Hispanic ethnicity, region and educational attainment. Statistical models were run on a total of 52 separate outcomes measured in existing data sources and the November panel survey to estimate the average effect that additional years of postsecondary education have on each outcome.
67%
of bachelor's degree holders say they donated to charity in the last 12 months, compared with 38% of U.S. adults with no higher education.
61%
of bachelor's degree holders say their health is excellent or very good, compared with 43% of U.S. adults with no higher education.
87%
of workers with a graduate degree say their job is a good fit for their talents and interests, compared with 58% for workers with no higher education.
Lumina Foundation in the Media
---
---
---
---
Other Work
Additional Work Insights
Additional Reports
Download Past Gallup-Lumina Reports
Gallup and Lumina Foundation have partnered to measure pressing issues in education since 2012. Explore past reports to see key findings and insights.