Research Hub
Workhuman
Gallup and Workhuman have partnered to study the wide-ranging impact of recognition in the workplace.
Featured Report
From "Thank You" to Thriving: A Deeper Look at How Recognition Amplifies Wellbeing
Four in 10 U.S. employees say their job is negatively impacting their mental health. On top of that, fewer than one in four employees say their organization cares about their wellbeing. These numbers suggest organizations need to start getting serious about addressing employee wellbeing.
Gallup and Workhuman have already established that great employee recognition and wellbeing can combine to take performance to a whole new level. But that's not all -- our latest research shows recognition done poorly can even undermine the benefits of great workplace wellbeing efforts.
Download the report to learn more about how the deep relationship between recognition and wellbeing can impact employee performance, job-searching tendencies and feelings of pay equity.
• Some results in this report came from data collected from a survey conducted Feb. 8-28, 2023, with 10,026 adults who are employed full-time or part-time, aged 18 and older, and living in all 50 U.S. states and the District of Columbia, as a part of the Gallup Panel.
• Meta-analysis was also used to inform this report and are from a database of 456 research studies across 276 organizations in 54 industries and 96 countries (Harter et al., 2020). In total, 112,312 business/work units, including 2.7 million employees, were studied.
• Utility analysis methods outlined in Asplund, Dvorak, Griffiths et al., (2016) were used to estimate the percentage change in performance outcomes when an organization at the 50th percentile in Gallup's database doubled the number of employees who strongly agree to the item, In the last seven days, I have received recognition or praise for doing good work.
• Benefits to productivity, absenteeism and safety are highly interactive and influence each other (e.g., higher productivity corresponds with higher profitability and lower absenteeism corresponds with higher productivity). Therefore, the individual financial benefits calculated in this report are not additive to each other and should be considered within a broader context of all business outcomes that move an organization's bottom line.
Among employees with great strategic recognition experiences and thriving wellbeing:
82%
are told they are top performers, compared to 29% of those who have poor recognition experiences and suffering wellbeing
77%
perceive their paychecks as fair, compared to 6% of those who have poor recognition experiences and suffering wellbeing
42%
are looking or actively watching for another job, compared to 75% of those who have poor recognition experiences and suffering wellbeing
Other Work
Additional Work Insights
Additional Reports
Explore Past Gallup-Workhuman Reports
Additional Reports
From Praise to Profits: The Business Case for Strategic Recognition
See how meaningful, personalized recognition directly impacts your employees and your bottom line.
Additional Reports
Unleashing the Human Element at Work: Transforming Workplaces Through Recognition Report
Discover how building a culture of recognition and harnessing its power starts with understanding what it is and how it's experienced in the workplace.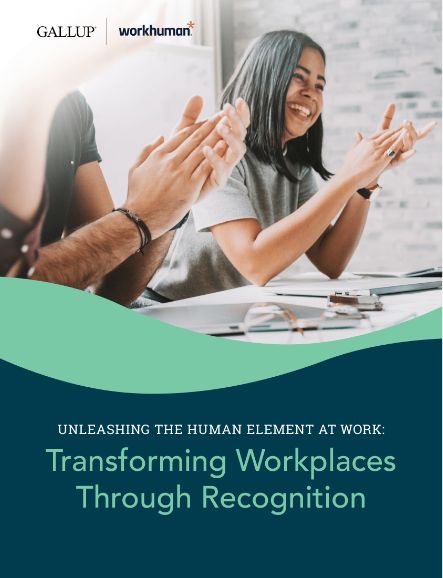 Additional Reports
Amplifying Wellbeing at Work and Beyond Through the Power of Recognition Report
Learn how leaders can realize the power they wield to amplify wellbeing at work and beyond through recognition.