Learn How the CliftonStrengths Assessment Works
Completing the online talent assessment (formerly the Clifton StrengthsFinder) is your way to:
discover what you naturally do best
learn how to develop your greatest talents into strengths
use your personalized results and reports to maximize your potential
Use the CliftonStrengths Assessment to Discover & Develop Your Greatest Talents
It only takes 177 questions to uncover the one true you. But it takes commitment to become the best you. Complete the CliftonStrengths assessment to unlock the personalized reports and resources you need to maximize your potential.
Step 1: Take the CliftonStrengths Assessment
During this 30-minute assessment, you'll see 177 paired statements and choose which one best describes you.
The assessment measures your talents -- your natural patterns of thinking, feeling and behaving -- and categorizes them into the 34 CliftonStrengths themes.
Step 2: Get Your Personalized CliftonStrengths Results
Finishing the assessment is just the start of fulfilling your purpose.
Your customized CliftonStrengths reports and guides help you chart your course to accomplish great things using the true north of what you naturally do best.
These Statements Describe Who You Are Precisely
"How did they know that? That's exactly … me!"
One look at your first personalized strengths insights, and you'll ask yourself the same thing.
Developed over decades spent studying millions of CliftonStrengths assessment results, these statements explain exactly how each of your Signature Themes makes you stand out in the world.
The pinpoint accuracy will leave you inspired and empowered with a newfound self-awareness.
Your Complete Profile Makes You Different
"What makes me uniquely powerful?"
This is the most in-depth CliftonStrengths report Gallup has ever released.
Your CliftonStrengths 34 Report shows you how to:
make the most of your strongest CliftonStrengths
understand your full CliftonStrengths profile
manage potential weaknesses
Purchase CliftonStrengths 34 -- or upgrade your existing CliftonStrengths account -- to receive this unprecedented report that unlocks who you are and how you can maximize your infinite potential.
Your Role Is Different; Your Report Should Be Too
Managing a team is no easy feat. Most managers feel:
like there's not enough time in the day
paralyzed by the pressure to meet performance goals
unsure of how to help their teams resolve conflict and solve problems
like they're struggling to balance their own work while managing a team
This is why we created the CliftonStrengths for Managers report. Learn how your strengths can make you a better manager and improve your team's performance.
Step 3: Use Your CliftonStrengths to Succeed
Now it's time to aim your CliftonStrengths at anything that comes your way.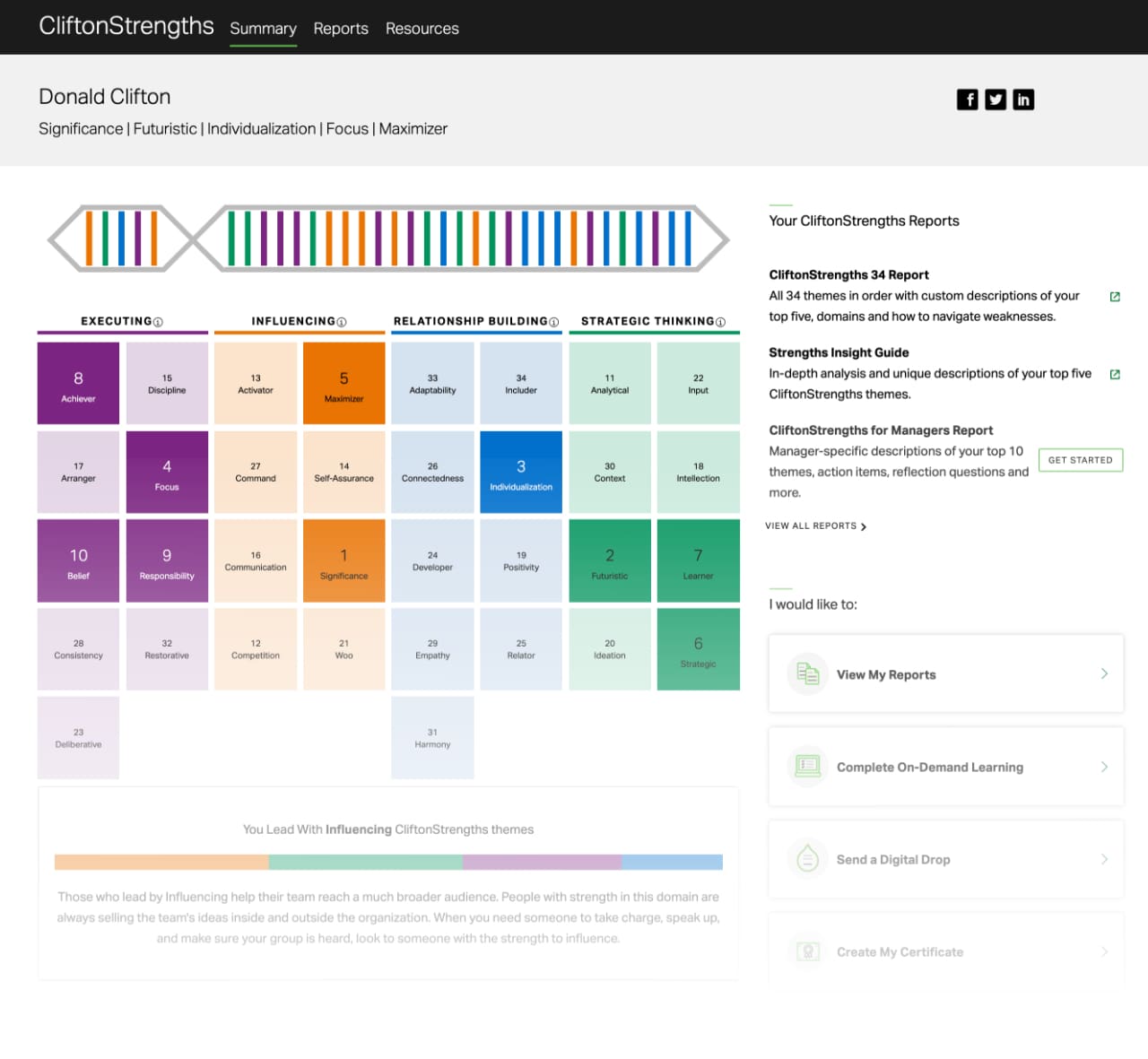 Compare CliftonStrengths Assessment Options