Asia Pacific
Explore Gallup's research.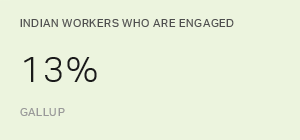 Learn how India's leaders can look to behavioral measures to increase engagement and achieve sustainable economic recovery.
Just 47% of South Koreans say people can get ahead by working hard, reflecting a frustrated workforce struggling with low productivity and engagement.
U.S. Leadership Loses Ground in Africa, Asia
Worldwide, Where Do People Feel Safe? Not in Latin America
U.S. Highest Rated of Major World Leaders
26% Worldwide Employed Full Time for Employer
Developing ASEAN's Future Leaders Today
Employee Engagement Insights and Advice for Global Business Leaders
Global Leaders -- Make "Great Job" Creation a Top Priority
Latin America Leads the World in Emotions
The Gallup Asia Summit is an annual gathering that brings together over 100 senior executives from the most recognized companies in the region. Attending the Summit provides the opportunity to network with senior leaders and executives from across the Asia Pacific and Middle East regions, and exchange best practices on similar challenges and opportunities.
Global Analytics That Quantify What People Are Feeling