Millennials
Explore Gallup's research.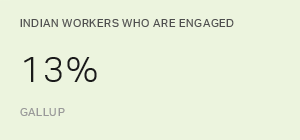 Learn how India's leaders can look to behavioral measures to increase engagement and achieve sustainable economic recovery.
Millennials want to work where they can learn, grow and have a future. Discover how your organization can offer them the right kind of development.
Employees who work remotely 100% of the time report the lowest levels of engagement. Find out what you can do about it.
Open office floor plans are effective when they keep in mind human nature and employees' needs.
Recent research has uncovered workplace trends that demand leaders' focus and innovative strategies sooner rather than later.
Managers need to have more frequent, ongoing conversations with employees. But too many managers aren't up to the task.
Two forces have disrupted what is traditionally called "performance management" -- changing it to "performance development."
Merely measuring workers' contentment and catering to their wants often fails to improve business outcomes.
The growing trend toward employees working remotely poses new and urgent challenges for managers.
The growing trend toward employees working remotely poses new and urgent challenges for managers.
Whether remote workers are actually engaged in their jobs depends on how much time they spend out of the office.
Finding out what workers want most in a job and an organization can help companies improve attraction and recruitment strategies.
The more that employees believe the job market is opening up, the less likely they may be to stay in their current jobs.
The U.S. job market is a mixed picture for workers: Some find it bleak, while others are confident and ready to look for new jobs.
Changes affecting organizations are coming relentlessly. They're overlapping and colliding in ways they haven't before.
Slightly more than a third of millennial workers say the mission of their organization makes them feel their job is important.
Nearly six in 10 members of this generation say that work-life balance and well-being in a job are "very important."
Though less pronounced than in the past, the gender pay gap still exists and has barely budged in over a decade.