Gallup Student Poll
Explore Gallup's research.
Chronic absenteeism is a problem in America's schools. Use the Gallup Student Poll to increase engagement and lower absenteeism.
Transform your students and schools with proven methods from Gallup's history of education research.
Provide a more positive school culture by participating in the Gallup Student Poll.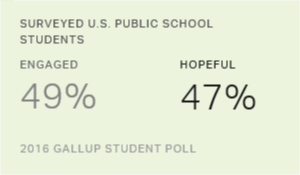 Engaged and hopeful students fare better in school and in life.
The Gallup Student Poll is a 20-question survey that measures the hope, engagement and well-being of students in grades 5-12. The primary application of the Gallup Student Poll is as a measure of non-cognitive metrics that predicts student success in academic and other youth development settings. The scorecard reflects results from surveys completed in U.S. public schools.