Engage Your Employees to See High Performance and Innovation
Engaged employees perform better and differentiate you from your competitors. But simply measuring employee engagement isn't enough.
Through a strategic partnership, we help you raise engagement levels -- and improve business outcomes.
Strategic Partnership
Make engagement central to your business strategy.
Looking for a comprehensive employee engagement solution? No matter your starting point, challenge or industry, we'll get you where you want to be.
Our consultants work closely with you to design employee engagement strategies that involve identifying pain points, establishing measurements, training leaders and implementing best practices. Together, these elements make engagement a seamless part of your culture.
Contact An Expert

About Employee Engagement
Employee Engagement Programs
Managers account for at least 70% of the variance in employee engagement scores.
Set your managers up for success.
From on-site courses to digital learning, we recommend engagement courses so your managers can coach their teams to high performance.
Learn more about our newest course for managers.
Survey Platform
Empower managers to improve team engagement.
When you send surveys using Gallup Access, our online platform, managers also get learning and advice they won't find anywhere else.
Use Gallup's employee engagement platform to complement our consulting services for truly exceptional outcomes.
Q12 Survey
Use our 12 employee engagement survey questions.
The Q12 survey reveals where you're doing well and where you can improve engagement within teams and across your organization.
Use the results to empower managers, improve productivity and create a stronger, more engaged workplace.
Learn More

about how to use our 12 employee engagement survey questions.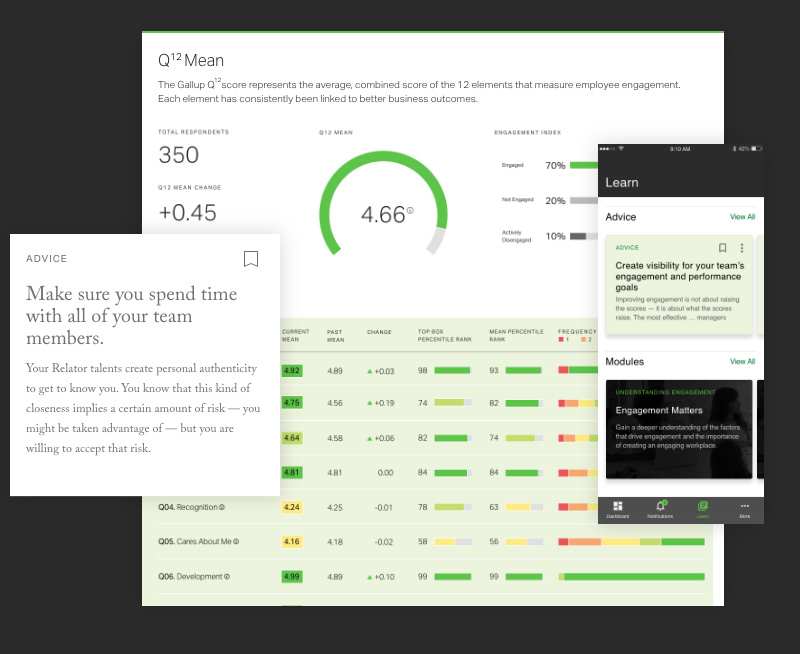 Our Expertise
We perfected the science of employee engagement.
Engaged employees are those who work with passion and feel a profound connection to their company. They drive innovation and move the organization forward.
We've spent 35 years studying what matters most to employees and how engagement influences business outcomes. We use that expertise to find the root cause of your employee engagement problems -- and then help you solve them.
We also created the gold-standard employee engagement survey, the Q12, used by Fortune 500 companies and small businesses alike. Measuring engagement made easy.
22%
average engagement among employees worldwide
48%
average engagement among Gallup clients
71%
average engagement among Gallup's best-practice clients
Improve employee engagement -- starting today.
Get in touch to learn more about how we can partner with you.