The Right Data
You know by now that big data can help your company gain a competitive edge.
But with data so big that it's impossible to wrap your head around it -- over 44 trillion gigabytes by 2020 -- more is not always better. How do you unearth the information that will bring you transformative insights?
We're so glad you asked.
Data Sources
We distill data from multiple sources.
Gallup has an 80-year history of building, preparing and analyzing data sets of all kinds. Our analysts start by doing an audit of the data corpus -- working with Gallup proprietary data, our clients' own data and open-source data -- to pinpoint the information that will get you results.
Custom Solutions
Research anything imaginable using customized data collection.
A unique challenge requires a unique data set, and we'll collect it on your behalf. We conduct nearly 10 million surveys and countless qualitative research studies annually, and we can tailor our approach to discover exactly what you need to know.
Citizen Analytics
Understand citizens across the U.S. and the world.
Through 100 core metrics, the Gallup World Poll tracks the opinions that matter most to your organization. You can take advantage of our World Poll data to shape your strategy by accessing raw data, interacting with aggregate data or adding questions to the global survey.
Gallup's U.S. poll is the only one of its kind. We gather the opinions of a representative sample of the U.S. population; you get insight into proven predictors of behavior.
Gallup Panel
Ask your target demographics what they think.
The Gallup Panel gives you fast, cost-effective access to more than 100,000 randomly selected people representing the entire U.S. population. If you quickly need the opinions of a sample representing your target audience, the Gallup Panel delivers.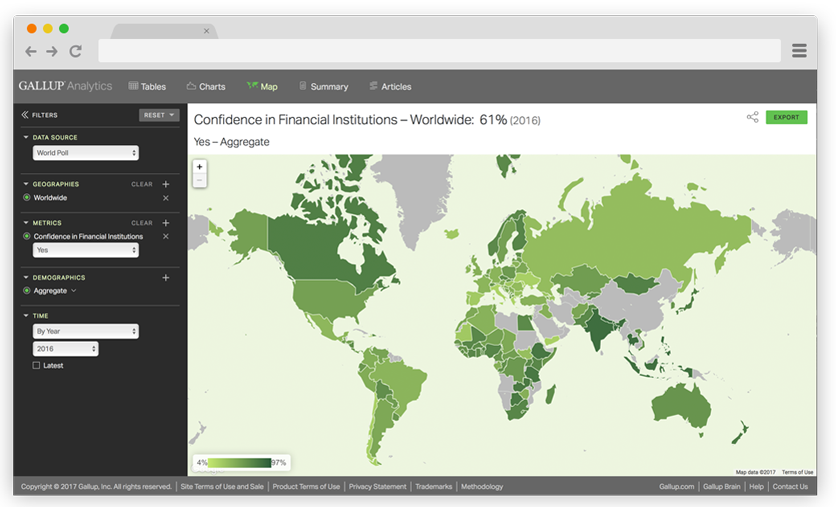 Gallup Analytics
Subscribe to nearly a century of primary data.
Gallup Analytics is the searchable database comprising new and historical data from sources including the World Poll and U.S. Daily tracking. A subscription lets you search, examine, compare and export information on topics that have major implications for your business, like the economy or consumer economic confidence.
Learn More

about a Gallup Analytics subscription.
Gather better data, not just bigger data.
To learn more about our proprietary data collection services, fill out the form below, and a Gallup representative will contact you.