Good leaders start learning.
Great leaders never stop.
Successful leaders and managers make great decisions about people. They learn how to coach and engage their employees, how to keep star talent, and how to create a culture that protects the bottom line. Data driven and designed for leaders and managers of all experience levels, our in-person and virtual learning will help you solve your toughest problems.
About our learning
Learn how we develop leaders and managers.
We teach leaders and managers how to develop themselves and how to draw out the raw potential their people possess. Our courses teach leaders and managers how to spot and develop talent, engage employees, and inspire near-perfect performance.
Our learning programs help leaders and managers:
learn to coach employees at all levels
motivate every employee with a compelling mission and vision
understand their own unique leadership style
make better decisions by understanding their own strengths and weaknesses
drive organizational performance
build relationships and accountability based on trust and transparency
LEADERSHIP LEARNING
Learn how to hire, develop and engage high-performing teams.
COMPANY CULTURE
Your leaders set the tone for your company culture -- your managers make or break it.
Leaders can create inspiring messages, but every move your managers make either builds up engagement on a daily basis or deflates it.
Managers are responsible for 70% of the variance in employee engagement.
What kind of culture are you creating?
2 in 10
Just two in 10 employees think their leaders know where their organization is headed.
15%
Only 15% of employees strongly agree the leadership of their organization makes them feel enthusiastic about the future.
+16%
Companies that invested in Gallup's manager development courses had an average increase of 16% more engaged employees.
Learning Methods
Choose how you want to learn.
Pick one Gallup learning option, or combine it with another. We've created Gallup learning so that you can learn from almost anywhere.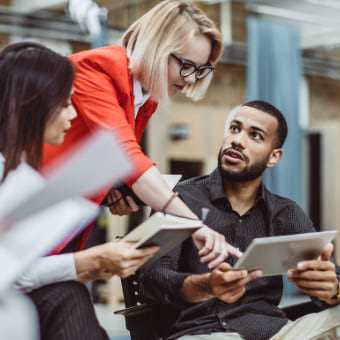 In-Person and Virtual Courses
Get unbeatable learning experiences in person or from a distance with world-class Gallup teachers.
Gallup Events and Webinars
Join the conversation to stay at the top of your game in a city near you or on your device.
Configured Learning
Get a learning solution custom-made to fit your unique challenges, business needs and culture.
CUSTOM LEADERSHIP
Create a custom leadership journey for your organization.
Use our analytics and expertise to build a scalable pathway for your leaders.
Featured Insights
Start learning now with our workplace advice and insights.
Concise and data-driven, Gallup content helps you make great decisions without slowing you down.
Contact Us
Build expertise that helps your organization achieve its goals.
Connect with us by filling out the form below. We'll contact you by email or phone to discuss your Gallup learning options.
Partner with Gallup
Become an even better leader.
Gallup develops leaders and managers based on facts about what works. Use our analytics and advice to succeed where others fail, to engage employees where others simply satisfy and to hit peak performance where others get good enough.