Report
The American Upskilling Study: Empowering Workers for the Jobs of Tomorrow
How access to upskilling is becoming a sought-after employee benefit -- and a powerful talent attraction tool
As the U.S. economy recovers from the impact of COVID-19, upskilling programs -- defined as training or education that teaches new skills or advances existing skills -- present a compelling opportunity for workers and businesses.
Gallup, commissioned by Amazon, conducted the most comprehensive study to date on upskilling -- The American Upskilling Study: Empowering Workers for the Jobs of Tomorrow.
The survey found that upskilling is becoming a sought-after employee benefit and powerful attraction tool for employers amid the current labor shortage.
Download this report to learn:
Who wants upskilling opportunities and who has access to them?
How does upskilling benefit employees' livelihoods?
How does access to upskilling attract talent?
What barriers face workers who want upskilling?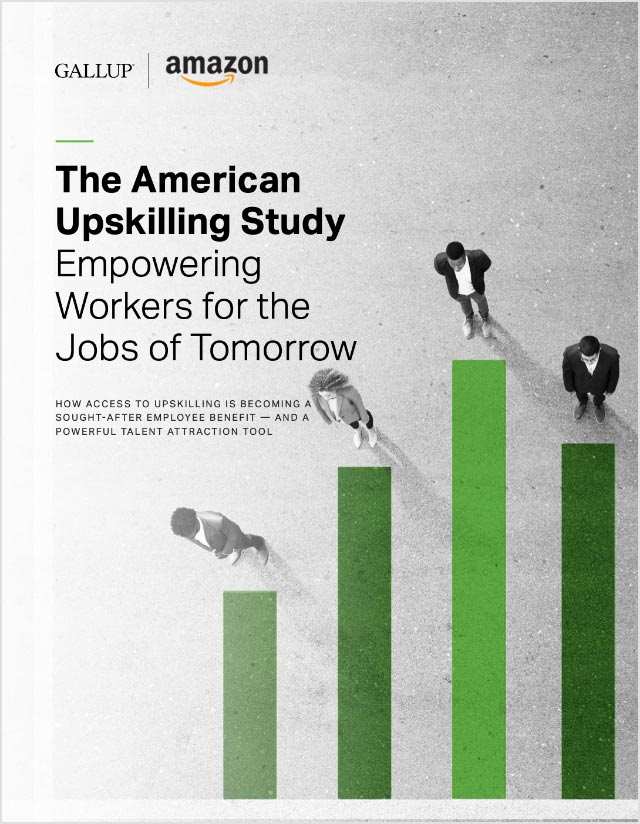 Results from The American Upskilling Study: Empowering Workers for the Jobs of Tomorrow are based on a self-administered web survey conducted June 8-17, 2021, of 15,066 U.S. adults from an opt-in sample provided by Dynata. The sample included adults aged 18-65 who are currently in the workforce (i.e., employed or unemployed but seeking work and/or planning to return to work). The survey was conducted in English only.
The sample was weighted to correct for nonresponse. Nonresponse adjustments were made at the state and national levels by adjusting the sample to match known targets for age, sex, education and race/ethnicity. State and census region (West, Midwest, Northeast, South) population targets were also used to create national weights. Weighting targets were created using the Census Bureau's American Community Survey (five-year data, 2015-2019).
48%
of American workers would switch to a new job if offered skills training opportunities
8.6%
average salary increase for American workers who recently participated in an upskilling program -- $8,000 on average higher than those who did not
65%
of workers believe employer-provided upskilling is very important when evaluating a potential new job
Additional Resources
American Upskilling Study Questionnaire
American Upskilling Study Data Dictionary
American Upskilling Study Full Public Database