Research Hub
Amazon
Amazon and Gallup are committed to exploring cutting-edge topics on the intersection of technology with skills and work.
Featured Report
Data-Driven Career Advice: The Gallup-Amazon Careers of the Future Index
Choosing a career is a complex decision many young people struggle with. That's why Gallup and Amazon teamed up to create the Careers of the Future Index (CFI). The CFI will provide young adults and their advisers with the information they need to make the best career choice.
Combining the most recent career-level data on income, job growth, job vacancies per job seeker and automation risk, the CFI conveys the economic strengths and weaknesses of various career paths.
Higher scores on the CFI generally indicate higher pay, a high and growing level of job openings, and/or better prospects that the job will remain a viable option in the future in the face of technological change.
Download the report to understand how the index was made and see what insights it offers. Then, visit our interactive page to explore careers or download the database.
The Careers of the Future Index is a weighted average of occupation-level data on income, job growth, job vacancies per unemployed worker and resistance to automation. Gallup drew upon several sources to construct these metrics. Income and job growth data were compiled from the 2021 and 2010 U.S. Census Bureau (via IPUMS USA). These data were also used to calculate the number of unemployed workers, and provide contextual data on the educational attainment, racial and gender demographics of workers in each occupation/career. Lightcast (formerly Burning Glass) was the source for job vacancies by occupation, using data from June 2021 to May 2022. The resistance to automation index is a summary measure of the level and importance of non-automatable tasks to each occupation. It was constructed using data from the 2019 Gallup Great Jobs Survey and O*NET data on the tasks performed by each occupation. These sources allowed the authors to create a measure of how likely workers in each occupation are to believe that their job could be automated or replaced by a machine or robot. Starting with 24 tasks that were identified in the scientific literature as relevant to automation, Gallup estimated how well the level and importance of each task predicts automation risk. The strength of the statistical relationship between each task and automation risk is then used as a weight to calculate the mean important/level of automatable and non-automatable tasks for each occupation. See the report's appendix for details.
22%
of U.S. 15-year-olds do not name a career when asked what career they expect to have by age 30.
35%
of 15-year-olds pick a career that falls below the top tier of careers sorted by CFI score.
Other Work
Additional Work Insights
Additional Reports
Explore Past Gallup-Amazon Reports
Additional Reports
The American Upskilling Study: Empowering Workers for the Jobs of Tomorrow
Discover how access to upskilling is becoming a sought-after employee benefit — and a powerful talent attraction tool.
Additional Reports
Developing Careers of the Future: A Study of Student Access to, and Interest in, Computer Science
Discover students' engagement with computer science amid continual growth in tech-related jobs.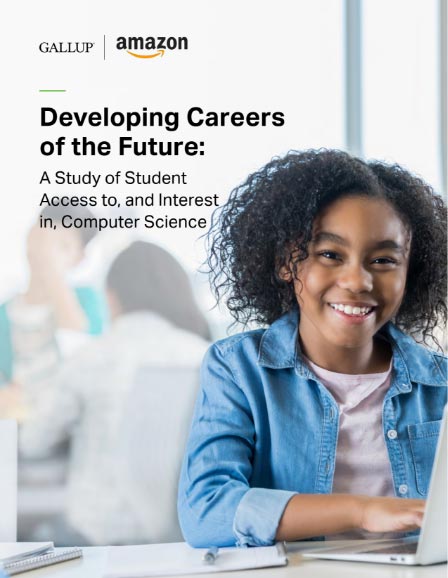 Additional Reports
The Amazon Web Services-Gallup Asia Pacific Digital Skills Study
Discover the economic benefits of a tech-savvy workforce in Asia Pacific.
Additional Reports
The Amazon Web Services-Gallup Global Digital Skills Study
Discover the benefits of a tech-savvy workforce.