Banks
Explore Gallup's research.
Gallup is the World Bank's partner behind the data in the Global Findex.
Make a few simple changes to retain and engage your most at-risk customer group.
Learn how your bank, and the industry as a whole, can take meaningful steps to improve customers' confidence and financial well-being.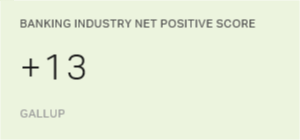 With a focus on the right recruitment messages, attracting quality candidates in hard-to-fill roles is achievable for any organization in any industry.
35% of U.S. Managers Are Engaged in Their Jobs
Behaviors, not slogans, are what truly differentiate banks.