Story Highlights
Many banks invest millions in the branch customer experience but fail to monetize it fully
More than 80% of branch manager hires are not top talent, resulting in unrealized customer potential
Hire top talent to monetize CX, achieve loan growth and capture market share
Perpetually Untapped Customer Opportunity
Banks know the critical importance of creating an excellent customer experience (CX) in the branch -- that's why nearly every sizable bank has invested tens of millions of dollars to measure and improve the quality of branch service.
The focus on the branch CX is still well-placed. While use of digital channels is increasing, the branch experience is still the greatest opportunity to either build up or destroy engagement with customers.
Nine in 10 customers still report visiting a branch (though not as frequently as customers used to), and the impact of those experiences plays a larger role in their overall engagement with the bank than any other touchpoint or channel.
The branch experience is still the greatest opportunity to either build up or destroy engagement with customers.
What's Your Return on CX?
Here's the problem -- less than 20% of the potential benefit from the time, energy and money that's invested is optimized. The return on CX is extremely low.
What exceptional CX creates is potential.
Branch employees can be trained to deliver a great customer experience, and managers can be trained to support them. But monetizing the resulting customer potential is a matter of talent.
Gallup's research shows the innate talent of the manager has the single greatest impact on growing revenue -- even more than the talent of the employees themselves. Hiring the top 10% of manager talent can help achieve a 27% lift in revenue per employee.
We all know intuitively that great managers take average talent and create great performance, while poor managers take great talent and create average performance. Whether in sports or business, we've all seen talent make the difference.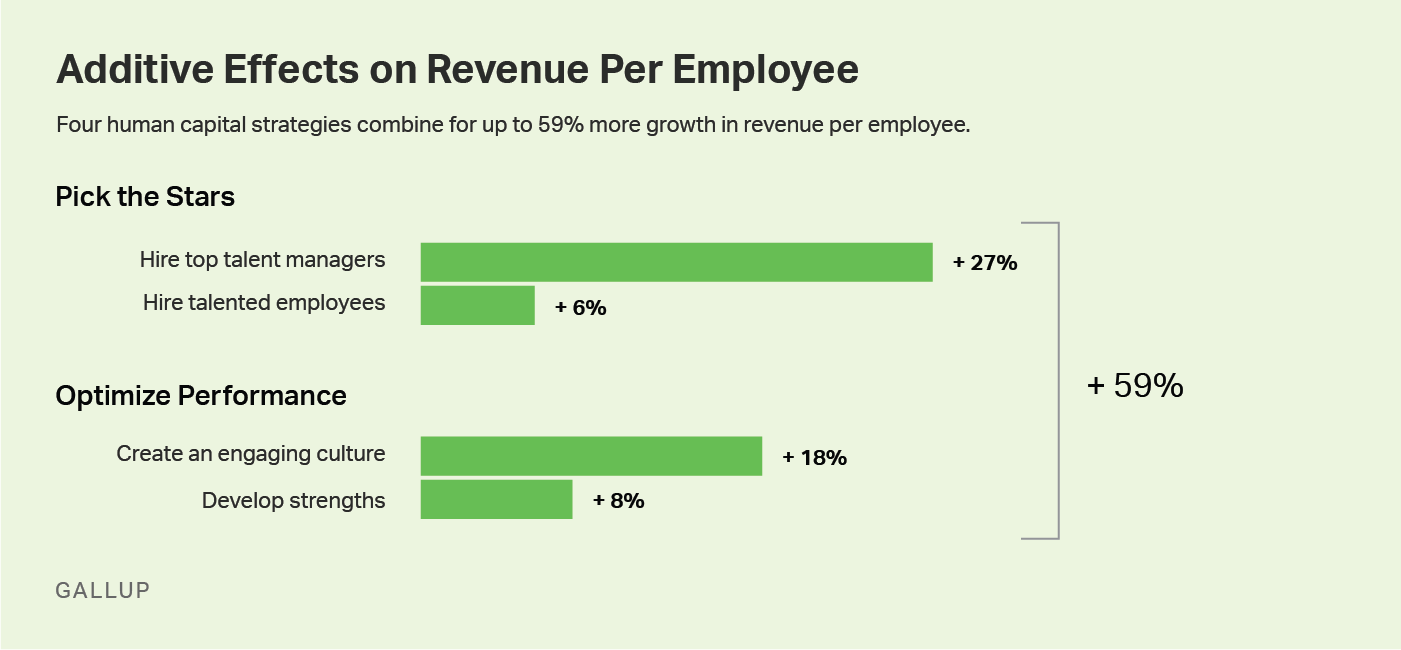 What's true in sports is true in management. Gallup's research shows that about one in 10 people have the natural talent to be truly great managers -- let's call it "A" talent. Another two in 10 have a basic level of manager talent and can function at a high level if their company invests in coaching and developmental plans -- "B" talent.
Great managers take average talent and create great performance, while poor managers take great talent and create average performance.
Gallup has found that the staggering array of hiring tools and resources -- screening questions, interview guides, panel interviews, etc. -- are overwhelmingly ineffective.
These do not reliably lead to "A" hires. In fact, 82% of manager hires are not "A" talent. This is, without question, the single greatest mistake that banks make.
How U.S. Bank Creates Organic Growth Through Talent
Steve SaLoutos, Executive Vice President and Regional Executive for Midwestern Markets at U.S. Bank, has made "A" talent a central pillar of his business strategy for well over a decade.
"In the end, banking can be learned," he says. "It's the talent aspect, the leadership aspects, that really are innate in the individual. It's important for us to find the right people and teach them banking as opposed to [just hiring a] trained banker."
U.S. Bank uses Gallup's tools to profile its most talented managers and hire more like them. Successful managers align with the bank's culture and also drive performance. U.S. Bank knows it because they track it:
Overall, "A" branch managers exceeded their production goals by a 1.3x-3.2x greater margin compared with other managers
"A" managers with top-quartile CX achieved a 44% boost in production above goal, while lesser talent saw no gain in productivity from exceptional CX.
The incremental value of an "A" manager is estimated to be $200,000 to over $500,000 per year due to increased production and reduced turnover.
Ultimately, "A" managers achieve excellent results in all key areas, including production, CX, employee engagement, retention and operations, while "B" and "C" managers can only drive so many things at once. For example, if they focus on CX they can achieve it, but production, say, may fall off.
That's exactly how potential in a branch is squandered and CX goes unmonetized. And it happens in 80% of all bank branches, despite the huge sums invested in CX.
"A" branch managers create additional organic growth from superior CX.
Use Gallup Analytics to Hire "A" Talent
"We're not trained psychologists, we're bankers," SaLoutos says. "What Gallup has allowed us to do is to choose talent first, and then think about [teaching] banking skill to individuals."
In fact, Gallup's predictive talent analytics showed U.S. Bank that they were turning away far more talent than they hired, which the bank rectified by assessing candidates sooner in the process.
Most banks likely make the mistake U.S. Bank fixed. And they probably have enough "A" manager talent in their branches to meet their manager hiring needs -- on average, banks have 50 "A" talent managers for every 500 employees.
They just need to identify that talent and develop it. Talent can be scientifically measured and predicted. Gallup is the world leader in assessing and identifying "A" talent. And those are the managers delivering the greatest return on CX.
"A" talent delivers "A" impact. Your bank is likely getting "C" returns on CX despite your investments in branch service. It's probably not an implementation problem, it's a talent issue -- and it's costing the business 80% of the potential benefit of your invested time, energy and money.
The Bottom Line
Start hiring "A" managers, stop hiring Cs: Implement a scientific, analytics-based approach to identifying "A" talent at the beginning of the hiring process.
Look inside: There is likely enough "A" talent in the branch network already to meet your hiring needs.
Elevate "B" manager performance: Invest in specific, strengths-based coaching and development and "B" talent can perform at a high level.
Focus on creating an exceptional customer experience: Human channels create the greatest way to boost customers' engagement with your bank, which is essential to earning the right to deepen the relationship.
This is one of three articles in a series about U.S. Bank's success with talent analytics. Read an interview about how U.S. Bank won with talent analytics and about how analytics-based hiring improved performance and diversity.
Gallup can help you optimize your organization's investment in the customer experience: